---
(Down - Up - Top)
RC 1.4 - Breathing

Besides good timing, good breathing is one of the hallmarks of every competent musician.
Bad breathing can destroy the music. Good breathing, in phase with the flow of the music (regardless the instrument you play) brings coherence, life, vitality and meaning to the music. I was first made aware of this when my piano teacher pencilled the breath marks in my piano scores.
During my music studies in the 80s I was fortunate enough to play in the Adelaide University Concert Band (then 'South Australian College of Advanced Education Concert Band') under the direction of the legendary conductor and Jazz Educator Hal Hall. This band won consistently, year after year, the first price in the top grade of the annual National Band Championships in Australia, setting the musical standard for all other concert bands throughout the country.

I remember on one day, during the rehearsal of a rather demanding piece of music, we just could not get it together. Each player was on top of his/her part of the music but together it simply failed to jell.

Suddenly we realised that the problem might lie in our breathing. And yes, this proved to be the case. All brass and woodwind players were nicely breathing together at the same spots in the music, but the 7 members of the rhythm section had no breath marks written on their scores at all.
After borrowing one of our properly marked scores and adding the breath marks to theirs we tried again, and at once all instruments jelled together and the music started to flow beautifully as it should. A wonderful experience and memorable lesson for all of us !
Always take a breath at the end of a music phrase (regardless whether you need to or not).
Most phrases are about 4 bars long, often with a musical "comma" in the middle after 2 bars.
For medium to up-tempo songs you should be able to take a breath at the end of each 4 bar phrase comfortably. For slower pieces you can generally take a breath at the commas as well.
Breathing in at any other place disrupts the flow of the music and destroys its energy and meaning. Even when there are rests in each bar, discipline yourself to hold your breath (winds) or keep breathing out (keyboards, strings, percussion) until the proper musical point.
When playing in a group make sure everyone is taking breaths at the same time. Synchronised breathing is a very powerful force, not only in music. It establishes emotional and spiritual connections and an environment of unity, peace and tranquility.
When practising all Rhythm Patterns of this course (from Lesson 3 and onwards) take a breath at the end of every 2 bar segment or combine 2 segments together and take a breath at the end of every 4 bars, as shown below.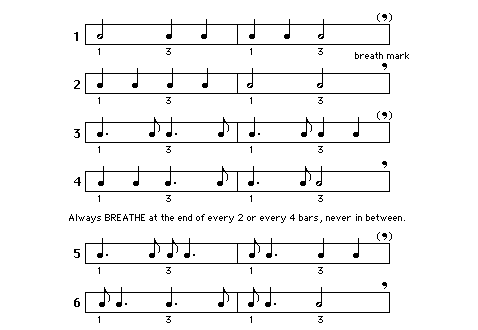 In songs phrases may not always start at the beginning (beat 1) of a bar or end at the very end (beat 4) of a bar as for example below. So watch out for this and pencil in the breath marks after you have played the melody a few times and get to know its rhythmic structure.