---
(Down - Up - Top - Jazclass Links)

AA 2 - Good Caravan Parks

The combined effect of the new goods and services tax (GST), increased insurance (since 9/11) and higher council rates (due to sky-rocketing land prices) the prices of caravan parks have risen considerably since the late 90s. Best prices are in the lesser known towns and villages and in country Australia.

If you are camping for an extended period of time it is a good idea to join as a member with one ore more of the three main caravan park groups

Top Tourist Parks - Big 4 - Family Parks of Australia (FPA)

Membership costs about Austr.$30 for 24 months, which gives you a discount (usually 10%) on accommodation charges.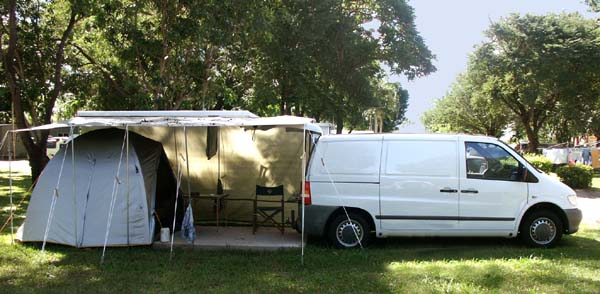 My camp setup at the Darwin Boomerang Park
I personally find the Top Tourists parks at many places especially good. They are usually conveniently located near town centres, or close to local shops, hotels etc. There are also many small independent caravan parks which are great to stay at and good value.
There are of course hundreds of great caravan parks around Australia. Here is a selection of parks where I have stayed and like to come back to. (They all have powered sites, unless otherwise indicated.)
---
(Down - Up - Top - Jazclass Links)

AA 3 - Lowest Fuel Prices

Fuel prices vary widely throughout Australia. The lowest prices are generally in and near the Capital cities and in the larger towns along the East coast. Fuel in some states is cheaper than in others. Queensland is generally the cheapest.

Inland prices increase quite substantially, and it is therefore useful to have knowledge of the cheaper towns and/or petrol stations. On long trips you can easily make a saving on your fuel cost of 10-20% by knowing where to fill up.

The larger your travel range on one fuel tank the better savings you can make. For long inland trips a range of 700 km or better is ideal. If your range is less than that it is advisable to have a spare can of fuel on board to increase your range to at least 600km.

Also by shopping at Woolworth or Coles supermarkets you can take advantage of their 4 cents per litre discount vouchers (through buying $30 of goods at their stores). This makes the Caltex - Woolworth Petrol Plus and Shell - Coles petrol stations very competitive price wise.
United Discount fuel and the old Ampol petrol stations (especially depots) are also often cheaper than other outlets.

I have outlined recommendations for fuel stops on a few major routes based on my own experiences.
If you have any useful tips in this regard please let me know.
Nullabor Plain (WA - SA)


Brisbane - Roma - Darwin (Qld - NT)


Brisbane - Cairns (Qld)

When traveling in the Australian outback be aware that on the large flat plains strong winds are common. A combination of strong headwinds and your air condition at full blast to combat 40°+ C outside temperatures can have a huge effect on the mileage you get from your fuel.
---
(Down - Up - Top - Jazclass Links)

AA 4 - Places I like

Here is a list of places I personally like especially.
On the whole they are away from the obvious main tourist centres.
I don't have a 4-wheel drive car, therefore all places below can be accessed on sealed roads.

NSW - NT & SA - Qld - WA
---
(Down - Up - Top)

New South Wales



(Up - Top - Jazclass Links)
---

© 2004 Michael Furstner (Jazclass).
All rights reserved.