Jazclass supports Médecins Sans Frontières and World Vision
---
How to travel - Hotels - Travel clothing - Germany - The Netherlands - France - Spain - Australia

---
(Down - Top)

EU 1 - How to Travel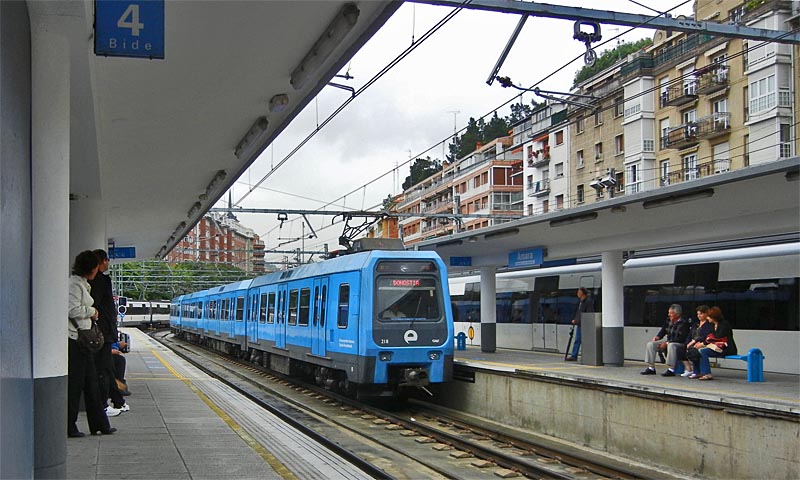 These days traveling by car in Europe is sheer folly. I traveled by car in 2008 and experienced the following drawbacks :
High Toll fees in France
Long cues in Germany and The Netherlands
Parking at Hotels is not available or you have to pay extra
Stressful, especially in inner cities
Public transport, by train and bus, is excellent through most of Europe, certainly the countries I usually visit. If you reside outside Europe you are eligible to buy a Eurail Pass which is excellent value. You travel 1st Class* for a specified number of (individual) days (or a continuous period) and select any 3-5 countries to travel through (or take a "Global Pass"). The Pass comes with a map showing all rail and sea link connections in Europe and a booklet with timetables.

(* : Persons under the age of 25 have a cheaper Economy class travel option)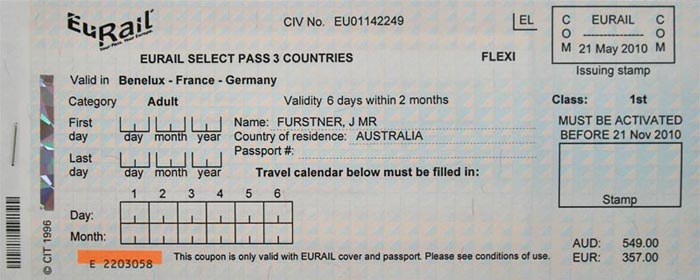 The German Rail (DB : Deutsche Bahn) has an excellent website where you can specify a rail connection between any two European cities and it presents you with a choice of exact time tables and the trains (and/or busses) you should use. Planning your trip could not be easier.

Eurail recommends that you make seat reservations (€4 in Germany - €3 in France - €10 in Spain) well before you travel. This is especially important for France and Italy which are reluctant participants of Eurail and make only limited seats available on some popular routes. So make sure to book there at least 6 weeks in advance if you possibly can. In all other countries in Europe you will have no trouble whatsoever.

On the odd occasion that the public transport does not get you where you want to go, just take a taxi, hire a car for the day, or perhaps even an electric bicycle (€20 per day).

Visitors to the Black Forest pay €1.35 tourist tax per day, but receive for this a Kronus Karte with which you can travel for free on all trains and busses throughout the region. This is a huge benefit, enjoyed by all. You can do many day walks getting off a train or bus at one point and getting on again where-ever you finish your walk.

Search for Rail connections in Europe
The German Railways, Deutsche Bahn (DB) website is in my experience by far the best way to check out rail connections through all of Europe. I use it every time I travel through Europe.
It displays everything you need to know up to 3 months ahead of the day you do your search.

If your travel date is more than 3 months ahead of the day of your enquiry make sure you put in an arbitrary date within the 3 months time span. This will give you all the info you need to plan your travel. Most rail connections more than 3 months ahead won't change, but just check again a month or so before you start your journey.


---
(Down - Up - Top)

EU 2 - Where to Stay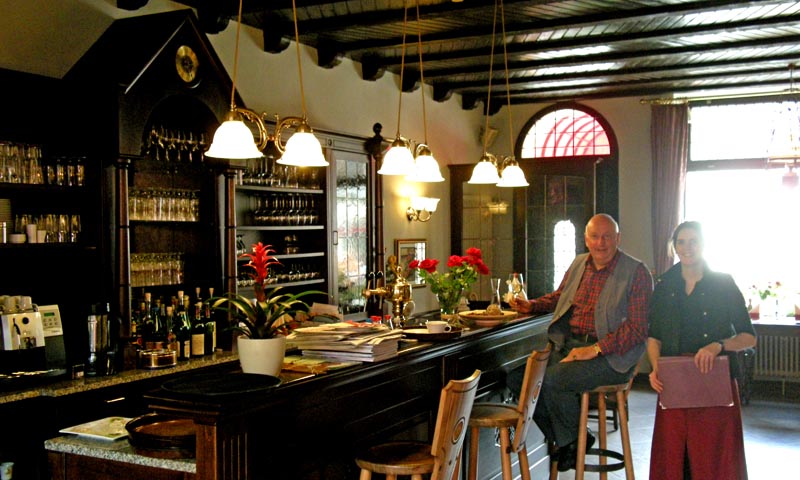 I always find most of my Hotel accommodation by means of the Lonely Planet Travel guides. I have used them now for 5 years and they have not let me down even once! So that is for anyone a great place to start.

Perhaps surprisingly in found Germany to be the cheapest place to find quality accommodation and always with a good breakfast included.
Portugal is cheap too, Spain slightly less so, and France followed by The Netherlands progressively dearer. But in any of these countries you will generally be able to find reasonable Hotel accommodation for $100 or less per night.
Here a list of Hotels where I stayed and which I definitely can recommend to you.

Hotels in : France - Germany - Holland - Spain

2014
I will be traveling through Europe again this year (September & October 2014) and report on my findings after my return.
This time I have selected a dozen or so hotels through Booking.com which appears to be a good alternative to the LPG.


---
(Down - Up - Top)

EU 3 - What to wear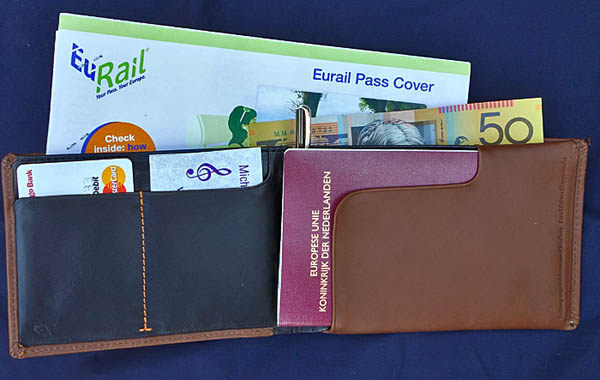 If your travel mode is similar to mine : lots of walking (but no rock climbing) and the occasional bike ride, then here are some suggestions for top quality items to wear and take with you on your travels.
(I have purchased, and paid for, all items mentioned below myself for my upcoming trip to Europe in September 2014, without any incentives from the companies involved !)

1. Light weight, easy care clothing
Kathmandu produces quality clothing made from high tech materials for the discerning traveler. I particularly like their shorts, shirts, pullovers, singlets and super light wind-jackets. Their superb Merino wool products are an absolute dream to wear.
I travel using a carry-on bag only and Kathmandu's light weight products enable me to take quite an extensive wardrobe with me.

2. Trousers to wear anywhere
Kathmandu has a wide range of long trousers, but they are useful for tracking only. They look quite unsightly and I therefore don't buy them.
Instead I purchased a pair of trousers from Bluffworks. They are light weight, non-crease, quick drying, and look fantastic.
You can wear them on your walks or on your bike, while at the same time looking quite fashionable in a restaurant or even a boardroom.
The trousers have two large hidden away safely zipped up pockets for money, credit cards, passports etc. Nothing can fall out and no thief can get near them.

3. Foot wear
For nature walks you simply can't get past the Original Clarke Desert boots.
Originally designed in 1950 and popular with the UK soldiers when off duty from guarding the Suez Canal, they still are an absolute classic.
I used to wear them in the late 1960s when exploring the West Australian desert as a geologist, but now use them again for all my walks. Their soft leather and their flexible crêpe rubber soles make them the most comfortable boots you will ever wear. The company's advise is you order half a size larger than your normal size. (I took their advise and my boots fit very comfortably wearing thick bamboo fibre socks.)

While you are at it you might as well also buy a pair of bamboo fibre socks. They are anti-bacterial and won't smell, even after wearing them for a week without washing.
You can get them at the Top Saddlery. (Bamboo fibre socks take longer to dry after washing. They now have a quicker drying version on offer which I recommend you should buy.)

4. Travel wallet
Bellroy makes a beautiful leather travel wallet which contains spaces for credit and business cards, your passport, travel documents, money, even a sim card. It also includes a small ball point.
Bellroy's main focus (besides quality) is a slim line design for all their products. The Travel wallet will fit easily in the (secret left hand) zipped trouser pocket of your Bluffworks trousers (without showing any bulge whatsoever).


---
(Down - Up - Top)

EU 4 - Germany


Here you find my descriptions and photos of the following places :
---
(Down - Up - Top)

EU 5 - The Netherlands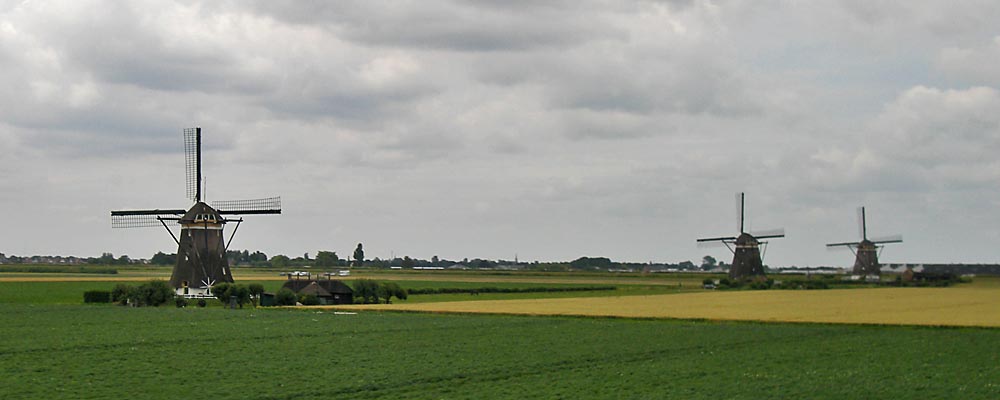 I guess you are going to Amsterdam anyway. I am not into big cities and have not been there in 30 years, but the following places are definitely worth visiting.
---
(Down - Up - Top)
EU 6 - France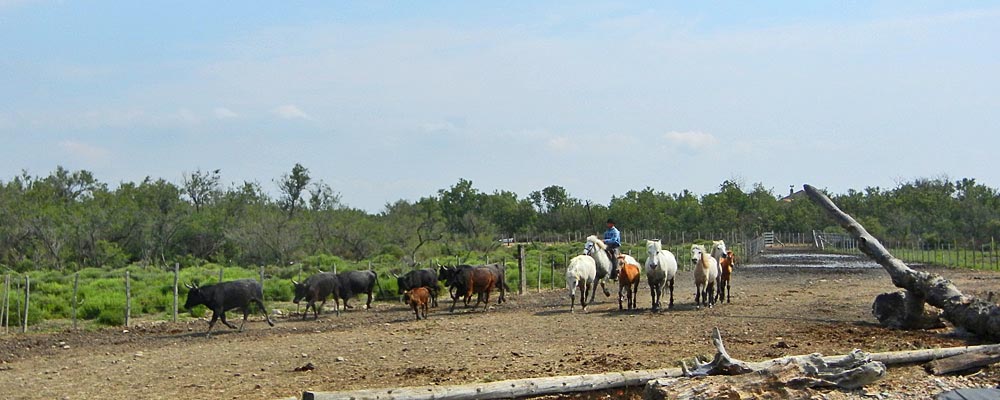 I am not a great fan of France, and usually travel through it as fast as I can (unlike in Germany, Spain or Holland, I never feel welcome there), but a visit to the Camargue in the South of France is well worth the effort.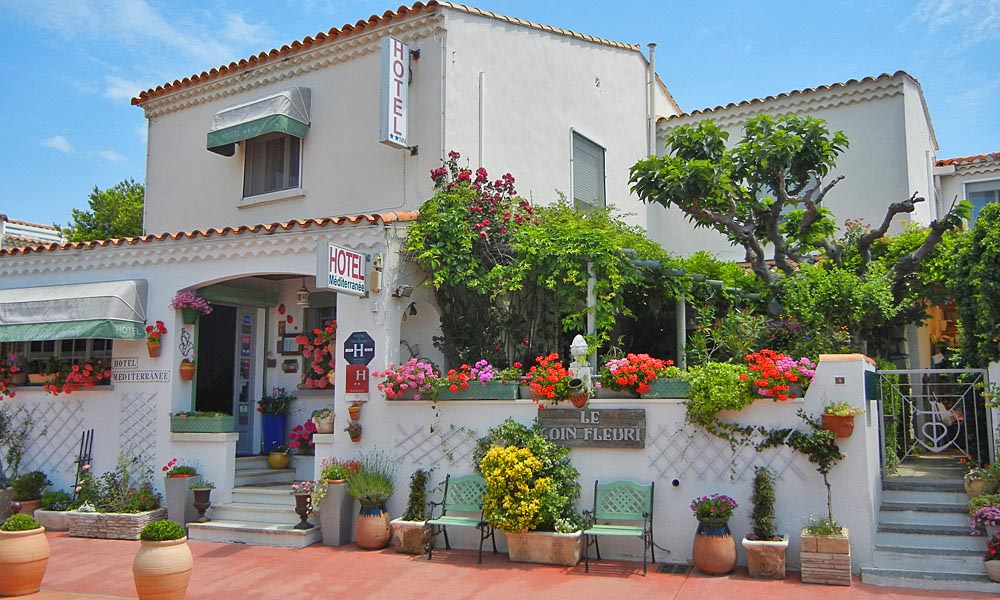 The best place from which to explore this area is Saintes Maries de la Mer right on the Mediterranean coast (and with sandy beaches, no pebbles!).
Lots of seafood restaurants, a French bull ring, and a harbour from which you can take a cruise onto the Petit Rhône.
Unfortunately a large part of the region is now farmland for growing potatoes and rice and for grazing of the white horses and black bulls (mostly oxen). The pink flamingos are to be seen on the water right behind the town.
To get there take the train to Arles (in the Provence), then right opposite the Railway station is the main Bus Depot with a regular connection to Saintes Maries de la Mer.

Hotel Mediterrannee is a good place to stay, right on the town's main street and only a stone throw from the harbour. It has small but comfortable rooms and a nice terrace on which breakfast is served. In 2012 it had no Wifi, but Internet access is available at the local Kebab shop.
For a guided tour in 4-wheel drive vehicle, ask for Jerry, the local Tourist office will tell you how to contact him.

Hotel - Photos - Map


---
(Down - Up - Top)

EU 7 - Spain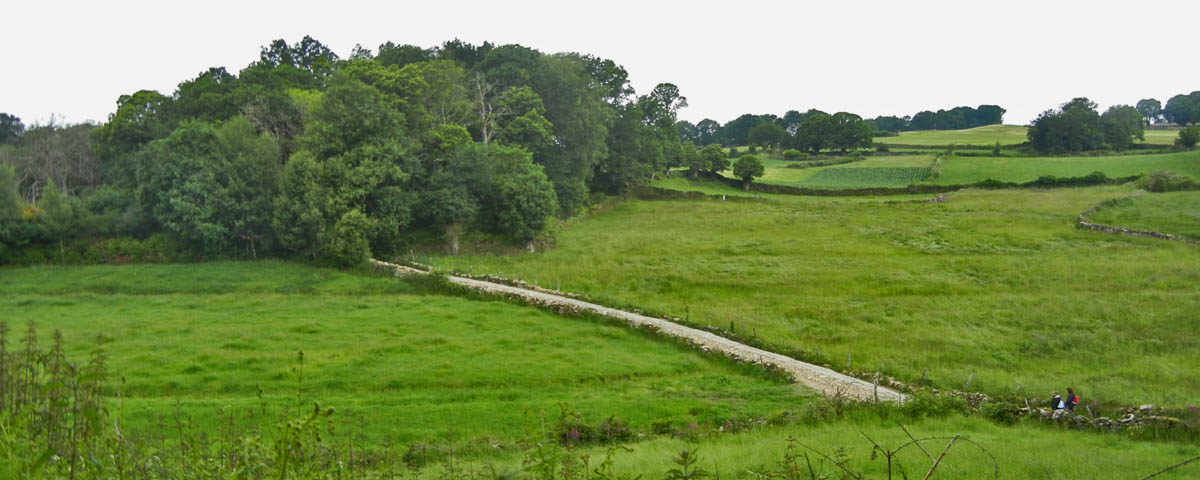 Lots to explore in this wonderful country.
(Up - Top - Jazclass Links)
---

© 2014 Michael Furstner