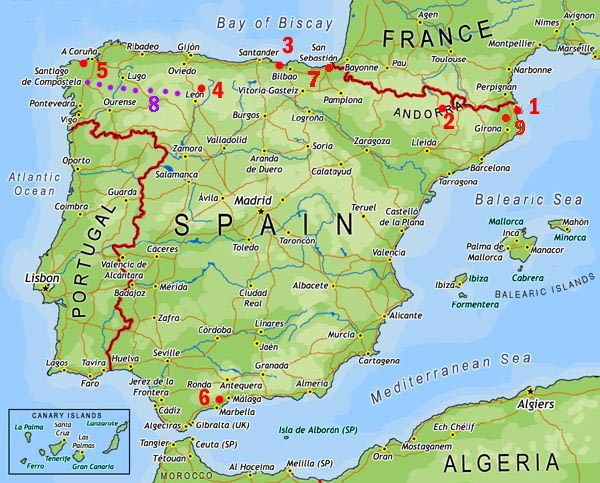 Cadaqués (1) - Camino de Santiago (8) - Mijas (6) - San Sebastian (7)
---
(Down - Top)

SP 1 - Cadaqués Reference map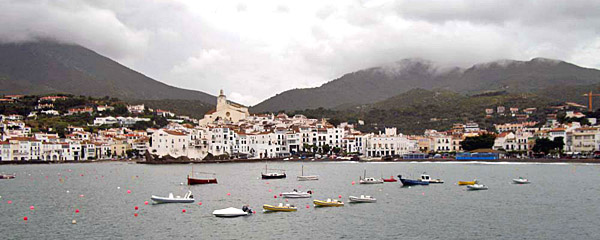 Cadaqués is a lovely fishing village on the Mediterranean sea at the northern most point of the Costa Brava. The village is completely surrounded by a National park, which adds to its serene beauty. Salvador Dali grew up here and for most of his life lived in his home in nearby Port Lligat (Casa Museu Dali) which you can visit by appointment.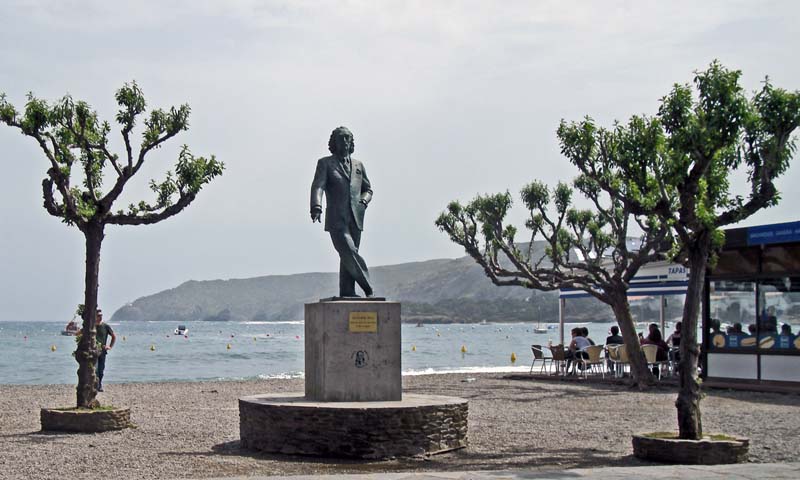 Hotel accommodation is rather expensive. The Lonely Planet Guide recommends Fonda Vehi which is cheap and in the center of town, but book early, during July and August it is usually booked out.
When I visited in 2008 I stayed in the Camping Cadaqués (Carretera de Port Lligat 17) overlooking the town. It is not too flash but close to town.
Bar Buia is a small Bistro right on the water's edge where you can have a drink, a meal or a swim.
Don't forget to visit the Cadaqués Museum which has a large display of photos of Dali and his entourage (also go to the Teatre-Museu Dali in nearby Figueres).
Above all you must try the Anchoas de Cadaqués which I much enjoyed at the Bar RosaAzul also overlooking the harbour.

Photos - Regional map - Reference map - My Blog


---
(Down - Up - Top)

SP 2 - Camino de Santiago Reference map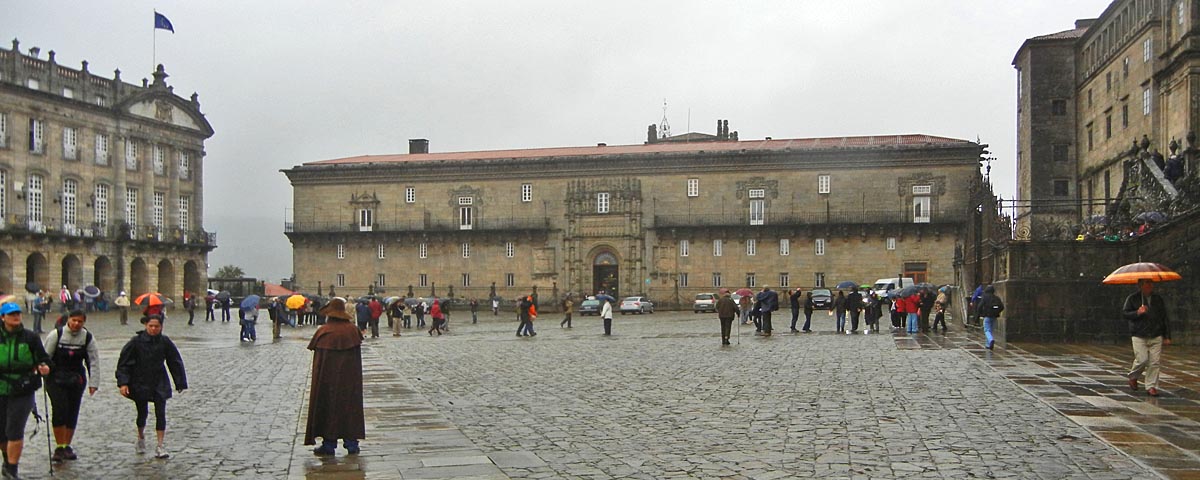 Although not religious at all, for some time now I have wanted to travel at least part of the pilgrims route, Camino de Santiago. Partly because it is such an iconic historic trail (Charlemagne travel on it it to Santiago 700 years ago) but also because I wanted to reconnect with this northern part of Spain where I spent four summers doing geological mapping and research from 1959 to 1962.
However I was not too keen on the free pilgrims hostals along the way, many apparently had bed bug problems in the past and you also have to arrive early in order to secure a bed for the night.
I also did not want to carry a heavy rucksack on my back.

I looked around on the Internet and finally settled on a company called Walks in Spain. It has been an outstanding choice. Run by a father and son team (both called Paul) they have selected six picturesque stretches between Astorga and Santiago de Compostela, covered on six consecutive days.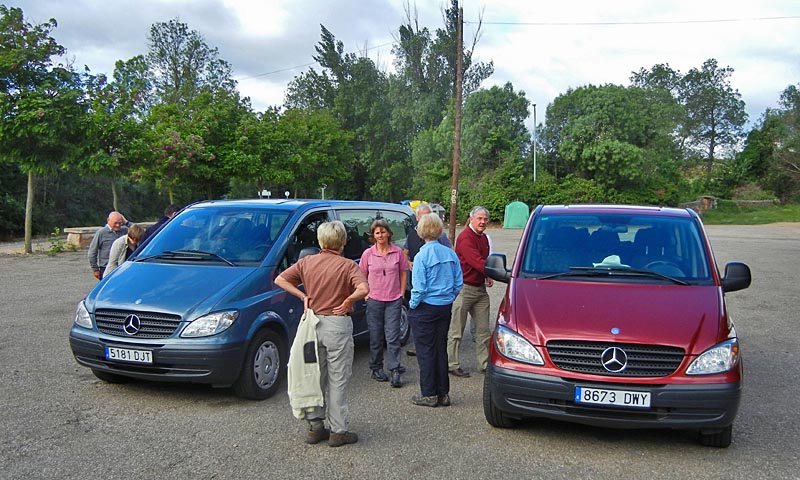 Each morning you are driven to the starting point by comfortable Mercedes Vito van which also carries all the luggage.
The morning walk varies between 6 and 11km. Then there is a 3-course lunch (wine included) in one of the authentic establishments along the road serving local dishes.
After lunch there is the option of either walking another 10- 20km or so, or calling it a day and get driven to the hotel for the night.
This means that the length of the daily route can be shortened or lengthened according to the age and enthusiasm of the individual. I (at age 76) being the oldest in the group, walked every morning my 6-11 km, then had lunch and was finished for the day. Others (some half my age) clocked up a total 25-30km for the day.
The week-long tour costs (in 2012) around €1,200 per person and covers quality (3-4 star) accommodation with private bathroom, all breakfasts, all lunches plus a welcome- and a farewell-dinner. Luggage is collected every morning and transported by car to that evening's hotel. Drop off and pick-up places during the day can be arranged according to individual preferences.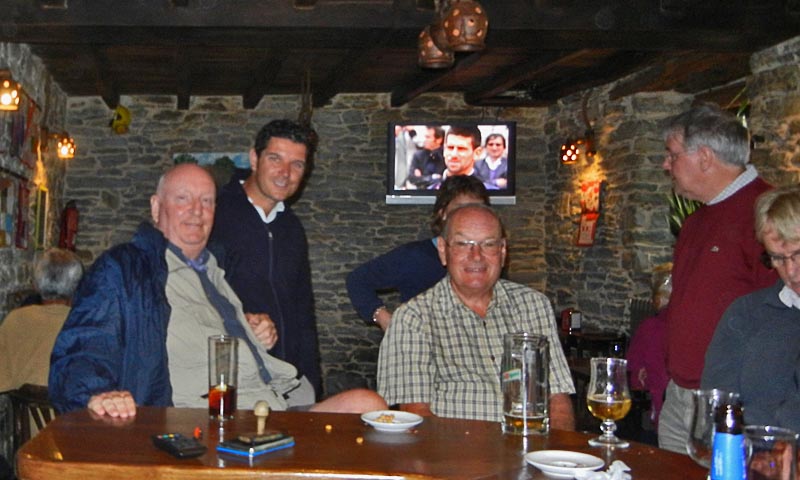 Paul Snr. is English and married to a Spanish wife, so his son is fluent in both languages. Participants on the tours are mostly English with a smattering of Canadians, Americans and the odd Australian. The tours are therefore very much English language oriented.
Besides several runs of the Camino tour, Walks in Spain also runs tours in other parts of Spain, notably on the Costa Brava, the Orange Blossom coast and in Malaga.
All tours are hugely popular with many participants going on several of the tours (I am already booked on their Costa Brava tour for September 2014). Therefore if interested book early, for past participants have priority.

Photos - Walks in Spain - Route profile - Sarria to Santiago - Santiago - Reference map - My Blog


---
(Down - Up - Top)

SP 3 - Mijas (Costa del Sol) Reference map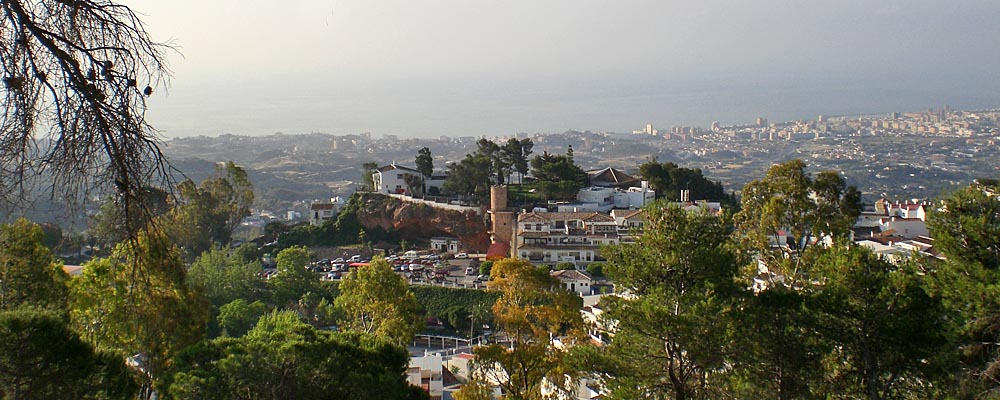 If you are visiting the province of Malaga then a stay at the white washed village of Mijas is certainly worthwhile. Perched on a mountain slope 400 meters above the coast it provides a splendid view of the Costa del Sol.
Mijas has an excellent Hotel with good facilities and sweeping views. The hotel has a large swimming pool, which beats trodding over the hot dark grey sand of the coastal beaches anytime.

There are lots of eateries in the village and there is a regular bus service down the coast to Fuengirola (only 8km away), Marbella and Estepona. Near the village square are an open air auditorium and a small Plaza de Toros, the only oval shaped bull ring in Spain.

Hotel - Photos - Regional map - Reference map - My Blog


---
(Down - Up - Top)

SP 4 - San Sebastian Reference map

San Sebastian is an elegant city/seaside resort on the Bay of Biscay. It is easily reached from Hendaye on the French border with the popular privately owned Eusko Tren ("El Topo"), which connects San Sebastian also to other regional towns including Bilbao.
El Topo conveniently waits for you immediately next to Hendaye's railway station (100 meteres to your right when leaving the station). It departs every half hour and costs less than €2 for a ticket to San Sebastian.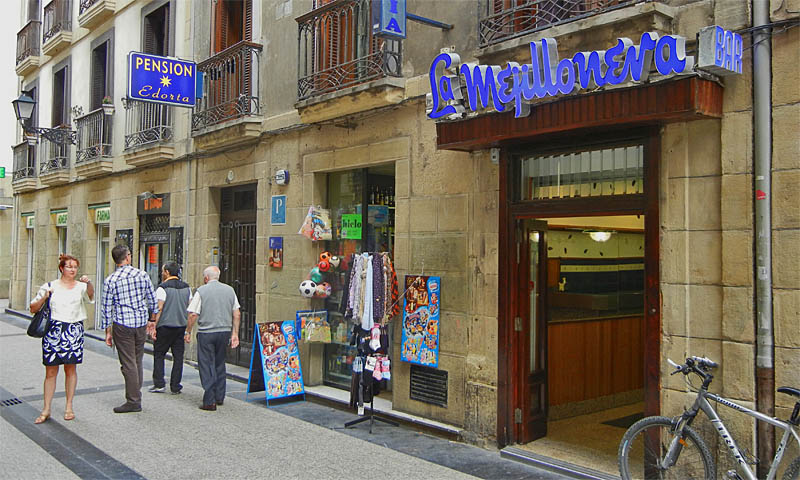 San Sebastian's large shell shaped city beach is flanked all along by a magnificent, stylish promenade ("Paseo de la Concha"), with the old part of town ("Parte Vieja") situated on its Eastern flank.
The Parte Vieja is teeming with restaurants and tapa bars, all sorts of fish of course being a speciality.
Make sure to pay a visit to La Mejillonera a bar specialising in mussels as well as the local potato dish Patatas Bravas.
This bar is located on the Calle del Puerto right next to Pension Edorta, a comfortable place to stay right in the centre of the Parte Vieja and very close to the old harbour.

If you prefer the more modern (but elegant) part of town then Pension La Perla is a great budget place to stay, surrounded by stylish shops, restaurants and only 5 minutes walk from the RENFE railway station.

Hotels - Photos - La Concha map - Regional map - Reference map - My Blog



(Up - Top - Jazclass)
---

© 2012 Michael Furstner