---
(Down - Top)
Im 3.1 - The Major Pentatonic scale
The major pentatonic scale is, as the name implies, a 5-note scale. It is the oldest scale in the world and can be traced back to the beginning of most musical cultures. It consists of the notes 1, 2, 3, 5, and 6 of the major scale. Or you can describe it as a major scale with the 4th and 7th note missing.
In the key of C :
Audio 3.1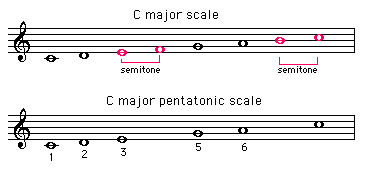 In the key of F :

Audio 3.2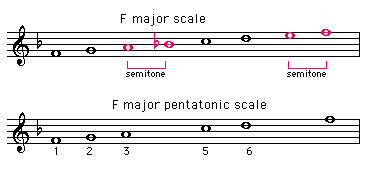 Because the 4th and 7th note are missing there are no semitones in the major
pentatonic scale.

Audio 3.3



This lack of semitones, and the acoustic relationship that exist between the notes of the scale give it a beautiful open and crystal clear tonality. It is therefore a great scale to use in improvisation.


---
(Down - Up - Top)
Im 3.5 - The 7th Chords Ruler
The Seventh Chords Ruler is an easy to use device to help you find the notes of the chord qualities in any key.

Align the Tonic note of the required chord on the letter strip with the '1' on the Seventh Chords Ruler strip, then read of the tones for each chord :
Imaj7 = 1 3 5 7


I7 = 1 3 5 b7


Im7 = 1 b3 5 b7


Iø = 1 b3 b5 b7


Io7 = 1 b3 b5 6



For example, to find the five chord qualities for the D align D on the letter strip with (1) on the Seventh Chords Ruler




Now read the D chords :
Dmaj7 (1 3 5 7) = D F# A C#


D7 (1 3 5 b7) = D F# A C


Dm7 (1 b3 5 b7) = D F A C


Dø (1 b3 b5 b7) = D F Ab C


Do7 (1 b3 b5 6) = D F Ab B