---
(Down - Up - Top)
Im 7.5 - Improvisation - Rhythm Patterns 31 to 35
Starting a phrase on beat 1 of a bar is OK initially, but it can become rather predictable to listen to. Good improvisers start phrases at any point in the bar. This creates great interest and variety in their solos. Check out for example the transcribed solos of Charlie Parker in the 'Charlie Parker Omnibook'. His phrasing is an outstanding example of what to aim for.

There are eight different starting points in a bar, the four down beats (1 2 3 4) and the four offbeats (+ + + +).



Practice starting a phrase on each of these eight points. Concentrate on one point at a time.
Rhythm Patterns 31 - 35 start either on 1 + or on 2. Try also to do some free improvisation starting on these points.



Audio 7.8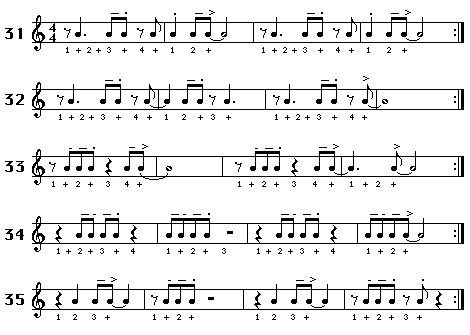 ---
(Down - Up - Top)
Im 7.6 - The Woodshed
Start practice on the Dorian mode in all keys.
First priority are the major scales in A, D, G, C, F and Bb. Then add the others : Eb, Ab, Db, Gb, B, E.

Work on the following exercise :

Audio 7.9


Be especially aware of the two notes that are different from the major scale, the b3 and b7 (Eb and Bb in C Mixolydian mode).