There are therefore four different ways of producing a sound :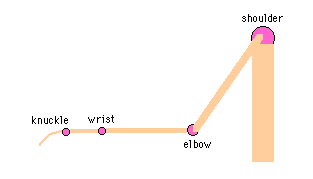 by moving the fingers from the knuckles.
This is the most important one and forms the foundation of all technique.
by moving the hand from the wrist.
This is for example used for light, quick staccato, such as in rapid octaves, or chains of chords.
by moving the forearm from the elbow.
This is used for loud, strong octaves and percussive effects, and also for rotating the hand and wrist in arpeggio figurations and tremolos.
by moving the upper arm from the shoulder.
This means dropping the whole arm on the keyboard and is used for playing powerful fortissimo chords. If necessary it is possible also to bring the weight of the torso to bear on this action.
These four different ways of producing and controlling tone colours and dynamics provide the pianist with an enormous range of possibilities.
The most difficult of these four actions, and the one which requires the most practice, is the ability to keep the fingers firm and stable while allowing the wrist to be flexible and mobile.


---
(Down - Up - Top)

KT 1.4 - Meditation and Relaxation
Good musical performance is an active form of meditation.

Meditation is a state in which the three aspects of a human being :

Mind - Body - Spirit

are

relaxed, in focus and in perfect balance.



Good instrumental practice works towards this state of meditation through :
natural integration of the instrument as part of the body, and
the relaxation, balance and focus of body, mind and spirit.
Relaxation of the muscles is therefore a vital element of a good keyboard technique.

Claudio Arrau (the famous Brazilian Classical pianist) once expressed it beautifully.
When asked in a TV interview what he considered to be the most important aspect of a good piano technique, Arrau replied :
"The arms and body form the vital link between the instrument and the Soul of the pianist.
If any stiffness in the body or body joints occurs this link is severed."
While saying this he was pointing at the critical point in this link : his wrist.

This is, in a nutshell, the secret of a good piano technique.
But it is also the major obstacle for every student who wishes to master the piano.

How to play the piano with firm fingers while maintaining a relaxed and flexible wrist ?
To find an answer to this question it is useful to look at the anatomy of the hand.



(Up - Top - ? ?)
---

© 1999 Michael Furstner (Jazclass)