SAX 2.3 - Reed Angles for Saxophone and Clarinet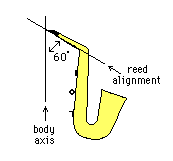 To maintain the optimum reed angle of 60° off the vertical on a straight soprano sax, the player must stretch the arms rather far from the body.
Bent soprano head joints are therefore available for most brands. This reduces the required stretch and relaxes the posture.
Preferred reed angles for the saxophone and for the clarinet are different.
The reed angle for optimum sound production on the clarinet is about 35° off the (vertical) body axis. The clarinet is therefore held much closer to the body than a soprano saxophone.
Never hold a soprano-sax like a clarinet and vice versa.


---
(Down - Up - Top)

SAX 2.4 - Wrists and Left Thumb
For saxophone playing the wrists should be straight, so that the back of each hand is in line with its connecting lower arm.
This contributes to relaxed finger action and a relaxed body overall.
Bent wrists and twisted shoulders create muscle tensions that easily can result in repetitive strain injury (rsi).
A straight right hand wrist is achieved by pushing the right arm forward so that the right elbow is in line with the body.
Problems with the left hand wrist can develop when the left thumb is incorrectly used for the octave key.
(The position of the octave key varies for different brands. Some models have the hinge on the left side others on the right side of the key.)
For all models : point the thumb upwards and operate the octave key by flexing the joint of the thumb.
This is the most efficient action. It involves minimum movement and keeps the hand still and the wrist straight.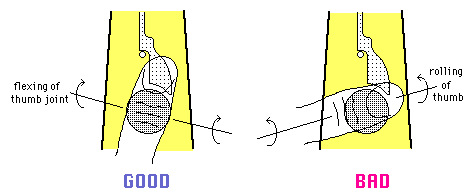 Operating the octave key with a near horizontal rolling thumb is very inefficient. It causes excessive hand movement and twists the left hand wrist.

Above all : never take the left thumb off the thumb rest when playing !!

All points discussed also apply to the playing position when standing.
The neck strap perhaps needs adjusting to achieve the best reed angle.
Ideally the alto- and tenor-sax are held free of and in front of the body. During long playing spells the instrument is sometimes leaned against the front of the body. But ensure that both wrists are straight and relaxed.


---
(Down - Up - Top)

SAX 2.5 - The Right hand Side Keys
Good hand position and wrist orientation is important for the use of the three right hand side keys on the saxophone.
They are in ascending order the side key Bb, the side key C, and the side key high E.