As the waveform changes from tone to tone, the body resonator must do the same.

This is illustrated in the following Diagram (after Peter Clinch).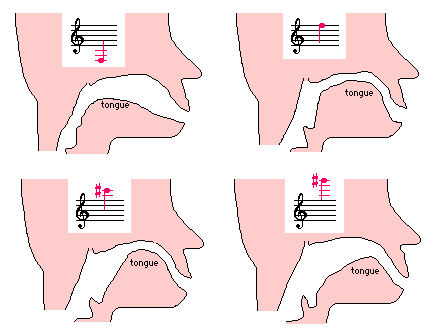 Shape of the upper oral tract (throat and mouth) for notes played on a Bb clarinet.
(After Peter Clinch, 1980.)
Note the dramatic changes in size and shape of the mouth and the throat opening.
The x-rays clearly demonstrate the importance of the shape of the tongue in voicing.
But other parts of the mouth and throat also contribute.
Especially the muscular wall of the pharynx (throat) and the soft palate (soft part of the roof of the mouth).
The first objective of tone practice is learning to make the right adjustments in your mouth and throat for each tone played.
This means developing a coordination between the mind the body and the ear.
The mind imagines the tone,
the body resonator manipulates its shape to enhance the tone,
the ear listens to the result and guides the body resonator into the shape for the best tone.
Gradually mind, body and ear become one united team. Then, when the mind imagines a tone, the body assumes automatically its correct shape.
The second objective is to exercise and further develop the flexibility of the muscles that can manipulate the body resonator.
This will :
improve the tone quality
extend the pitch range, and
lead to the ability to produce greater tonal variety, depth and emotions.
The quickest and most effective way to do this is through Overtone Exercises.


---
(Down - Up - Top)

SAX 5.2 - The Overtone Series