SAX 3.7 - Position of the Bottom lip
The position of the lower lip on the reed is also important.
For optimum tone quality : place the lower lip at the point where the curvature of the mouthpiece facing starts (where reed and mouthpiece start to touch).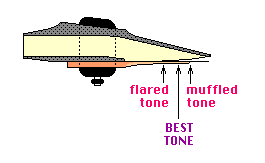 If the lip is too close to the tip of the reed the sound will be muffled.
If the lip is too far forward over the reed the sound will be flared and out of control.
In its proper position the bottom lip contributes, through minute adjustments, to optimising tone quality and pitch.

I recommend you stick a rubber patch on top of the mouth piece to rest your upper teeth on. This prevents the teeth from sliding and makes it easier to stay on the right spot on the mouthpiece. It also improves the embouchure (which need no longer be involved to prevent the sliding).
Rubber patches are available in most music stores. I always cut a piece from a car tyre patch and stick it on with Super Glue. It lasts forever.


---
(Down - Up - Top)

SAX 3.8 - Practice
Commence each session with some practice for the correct embouchure pressure.

Start with blowing on the unattached mouthpiece alone.
Eugene Rousseau recommends embouchure pressures that produce the following concert pitches (keyboard notes) on the unattached mouthpiece.

Audio 3.1


(If anything your embouchure pressure may be slightly less, producing a lower pitch than indicated above. But definitely not higher than shown.)

Next attach the mouthpiece to the saxophone and play a G major scale in the following manner.


Finally continue to play major scales in slurred twos, threes, fours and octaves as in previous lessons. Add the major scales of E, G and A to your repertoire. (Use side key C for the G scale.)


---
(Down - Up - Top)

SAX 3.9 - Memories for Tomorrow
Memories for Tomorrow is a Jazz ballad in D minor (sax key).
Take the same approach as for previous songs : sing in your mind, listen to the sound produced, and feel the vibrations in your body.
Keep your throat as open as you can by simulating the action of yawning.
Think about your embouchure.
Continue to play Lost in Space and Lonesome Bossa.


---
(Down - Up - Top)

SAX 3.10 - Practice Material