---
(Down - Up - Top)
In staccato articulation the note is short and both started and ended with the tongue. Tongue movement is similar to pronouncing "dit" (or "dat" or "dot" for different pitches).
After ending the note with the "t" : do not open the mouth or take the air pressure away, unless you are taking a breath.
---

Exercises 3 and 4 - Staccato tonguing, rests and breathing.
These are the same as Exercises 1 and 2, but now the notes are played staccato.
Breathe on the last beat of each second bar. Practise the four point breathing and articulation action.

Audio 7.3 (Exercise 3 only) : Alto - Tenor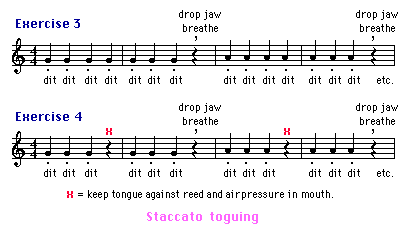 During each first bar rest in Exercise 4 : keep the air pressure in the mouth and the reed closed with the tongue until the start of the first note in the second bar.
---

Exercise 5 - Legato and Staccato tonguing.
When you are comfortable with Exercises 1 to 4 you can combine the legato and staccato articulation in one exercise.
Use two bars for each note of the G major scale.

Audio 7.4 : Alto - Tenor


In this exercise the rest at the end of each second bar is omitted.
Shorten the note on that beat to give you sufficient time to execute the four point breathing and articulation action correctly. Gradually you will be able to do this very quickly and without thinking.
When you are comfortable doing this exercise over the G major scale you may extend it over an increasingly wider range of the instrument.