The Martinshof Story - Page 4

Page | Previous | Next || 1 | 2 | 3 | 4 | 5 | 6 | 7 | 8 | 9 | 10 | 11 | 12 | 13 | 14 | 15 | 16 | ? |
---
Next - Previous - Top - Page 1 - Photos - Michael's Blog - Jazclass Links
13. Atelier Martinshof : The Early years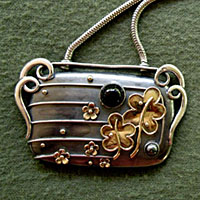 Those first years (from 1949 onwards) of Atelier Martinshof must have been incredibly tough for my father. Every morning he would take a bus to the train station and then travel to various places in Holland to visit jewelers and show his collection.
The (rather pedantic) jewelers world in the Netherlands was relatively small and virtually everybody knew that my father had been "fout" (pro German, NSB member, a "traitor") during the war.
This was (and in some quarters still is to this very day) a horrible stigma he carried for most of his life, and many jewelers in the early years must have treated him accordingly. But my father rarely spoke about this to us, his family.
When I think about those days, tears for him come to my eyes. The only consolation I have is that he (like us, his children and grandchildren later) had this strong "Furstner force" within himself driving him forward on a relentless path of self expression. "This is who I am, who I want to be, and this is the road I must follow!"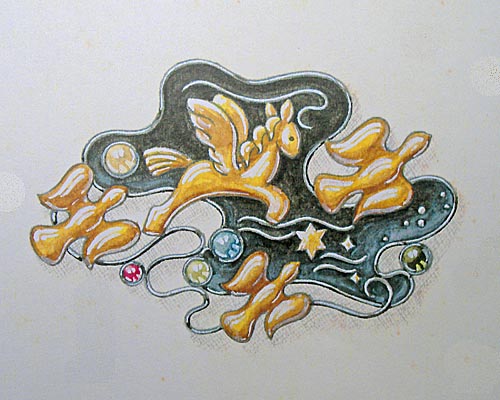 About 30 years later, when I gave up my career in Geology and started to study music I got lots of comments ranging from "You are stupid", "You are doing the wrong thing", "That's fantastic, go for it" to "You are very brave." But frankly none of these things come into it. There is only one predominant need to be yourself. Everything else just falls by the roadside and is totally irrelevant. And is this not what one's life really should be about ?
So my father carried on regardless, and gradually through his generous, caring and compassionate nature started to get jewelers on his side. Especially the genuine, often up market shops started to accept him.
An, although financially poor, but wonderfully creative period opened up for Atelier Martinshof, for my parents and also for myself.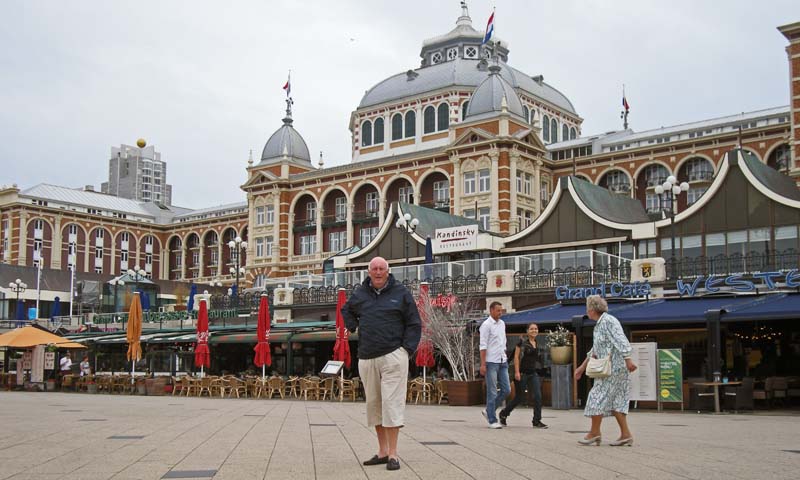 Several of the larger jewelry firms throughout the country, enchanted by the delightful Martinshof jewelry, offered to host Martinshof exhibitions on their premises. Quickly this became for many a yearly event.
We also had every year exhibitions in the prestigious Huis ter Duin in (the then up market North Sea resort village of) Noordwijk aan Zee and in the Kurhaus in Scheveningen. We also took part in the annual show of the Art and Craft Guild of the Achterhoek (the region East of the river IJssel in the province of Gelderland). These were always held in the lovely village of Lochem.
Other locations of Atelier Martinshof expositions I remember were in Kunstcentrum Prinsetuin in Leeuwarden, Scheppend Ambacht in Hilversum, Rotterdamse Kunstkring, Juwelier Leffelaer in Haarlem, and other locations including Amsterdam, Helmond, Franeker, Bolsward.


---
Next - Previous - Top - Page 1 - Photos - Michael's Blog - Jazclass Links
14. Atelier Martinshof : Piet Slegers and Guus Jansen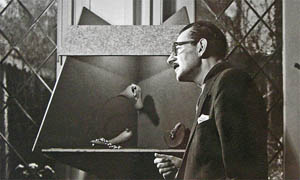 My father, quite early on, also involved two more artists as contributors to the Martinshof image. One was Guus Jansen, the architect from Zutphen who had designed our home Martinshof. Guus designed modern collapsible display stands, made of compressed chipped wood. We had 8 or 10 of them which fitted in two large easily transportable crates. The stands were a great success.

My father also got to know the young (then in his late 20s) sculptor Piet Slegers from Velp (near Arnhem).
Piet made for us small abstract shapes (reminiscent of Miró, Calder and Henry Moore) of wire and very light (dense foamy ?) material in various colours, used as displays on which jewelry pieces were presented in each stand. Slegers also made for us several larger white plaster abstract stand alone shapes on which too jewelry was displayed. The overall effect was a for the Netherlands (and possibly whole Europe) totally new, ground breaking way of jewelry exposition which attracted enormous attention throughout the country.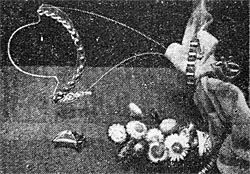 I absolutely loved the exhibitions. At first my mother was the sole "interior decorator" designing the display for all stands and tables. But at age 15 I was well established as her assistant with my own share of stands I had to fill with jewelry.
My mother made all sorts of artistic creations including arrangements of dried stroobloemen ("straw flowers"?). She sometimes included these too in her jewelry displays which formed a wonderful natural contrast with the smoothly rounded abstract shapes by Piet Slegers.
Before each exhibition we would set up a couple of stands and tables at home in our lounge room and the two of us work up "our own" displays, commenting on each other's creation untill we were finally happy with the result.

When "on location" I also helped my parents with the general layout of the exhibitions and connecting all the necessary lighting.

After completing the exhibition's set up my parents would generally stay with the exhibition, while I returned home to Martinshof looking after my brother and sister and doing the cooking. My sister and brother were at that stage still too young to participate, but when they grew older they too contributed in their own unique ways to the Martinshof image and exhibitions in later years.


---
Next - Previous - Top - Page 1 - Photos - Michael's Blog - Jazclass Links
15. Atelier Martinshof : Family support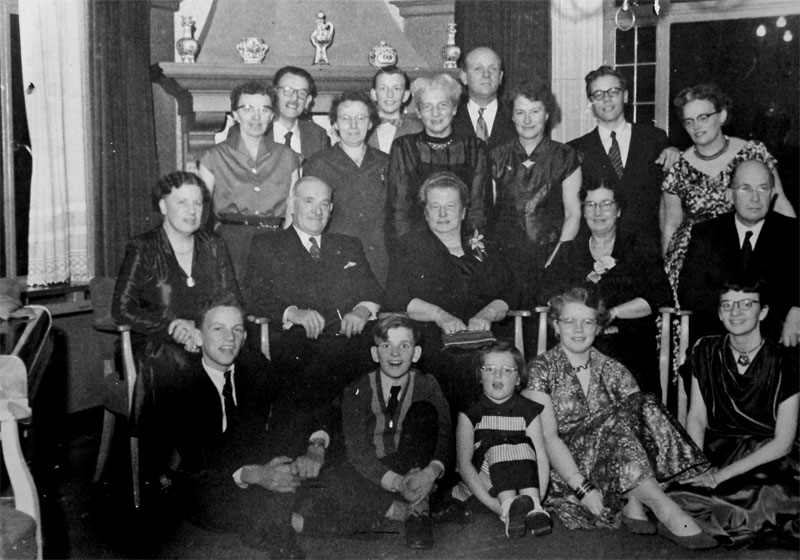 In hindsight I now realise that my mother always felt personally responsible for the political trouble and consequences our family had landed in. This was not true of course, but my father's family members were too up front and at times too loud matter of fact to comfort her, a highly introverted sensitive being. In all fairness intimate communications about emotional personal matters where in those days highly embarrassing and very rare.
From a practical perspective however my father's family was highly supportive of Atelier Martinshof.
My father's eldest sister Bep was for many years a member of the Martinshof board of Directors. She was on the board of several Dutch companies, a rare occurrence for a woman in those days, and brought with her considerable professional experience.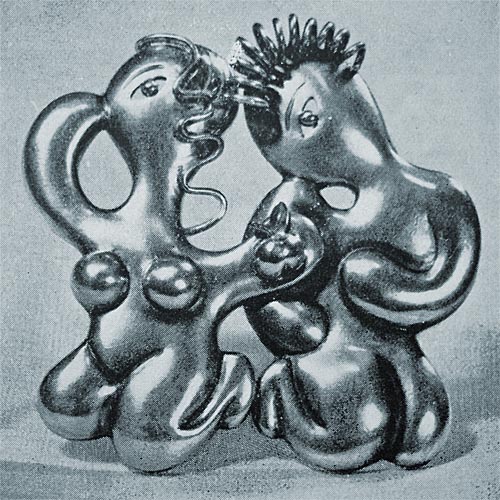 His sister Tiny and her husband (and my Godfather) Ansco Dokkum provided for many years an overnight base at their home in Amsterdam every time my father did business in the West, which was very frequent.
My Grandmother provided the startup capital and our millionaire uncle Cor van Sillevoldt, a former business partner of my late Grandfather, provided considerable financial clout throughout the always financially troubled life of the Martinshof company.

(Uncle Cor and his wife remained childless, so that my father and his two sisters inherited considerable amounts after their death. This enabled my father in the 1970s to buy back all the Martinshof company shares as well as the gold stock which until then had been the property of the Niessing company in Germany.)


---
Next - Previous - Top - Page 1 - Photos - Michael's Blog - Jazclass Links
16. Atelier Martinshof : Tom Jerne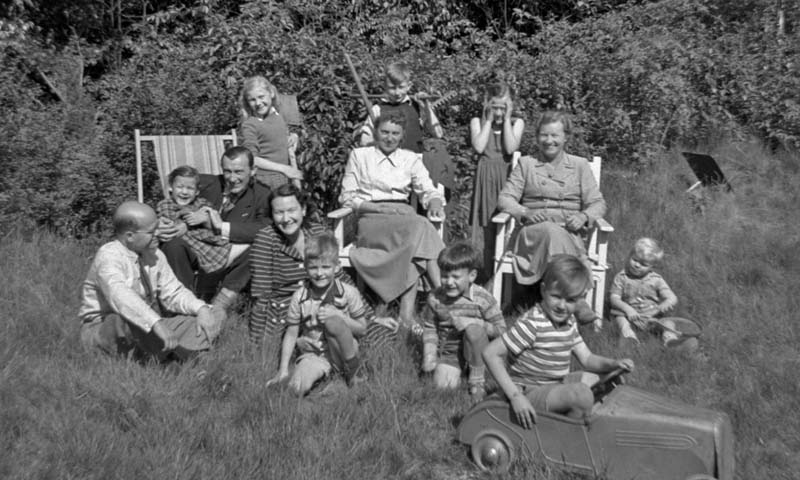 Martinshof greatest supporter right through its life however was my father's best friend from childhood days Tom Jerne (seated on the left deck chair, his wife Nel on the grass in front of him). Tom inherited his family's Cool and Freeze houses in Rotterdam. He was the first in the Netherlands who started a frozen vegetables company : Vita Diepvries. Eventually he sold this hugely successful company to the giant Unilever.
Oom Tom ("Uncle Tom") was always there to provide financial clout whenever my father was in trouble, which was not an un frequent occurrence.
After my father's unexpected death in 1981 I became in charge of Martinshof during a time of deep recession and many jewelry shops as well as wholesalers going bankrupt. Just after Easter 1982 I too was ordered by my bank manager to "liquidate Martinshof within 3 months". I had of course no intention of doing that, there simply was not much to liquidate anyway. I had taken a wide range of drastic cost cutting measures but these had not had enough time yet to come through. In my mind I had formed a "Plan B" to continue with a skeleton crew of just 3 or even 2 paid staff (of a total of 11) besides myself, my mother and sister to see through the bad times.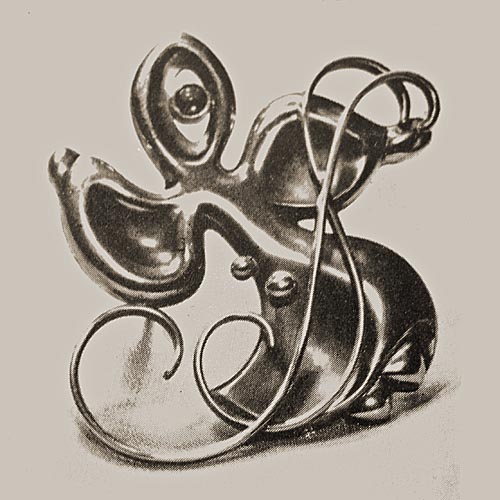 In this context it was with leaden feet that I traveled with my sister to Antwerp for lunch with Oom Tom and his family. After lunch I told him that I had to relieve him from his Martinshof Directorship and cancel his regular Director's salary, which at that time formed a substantial part of his retirement income. I returned home with a very heavy heart. Back at Martinshof I picked up the phone, rang him and told him that I could not go ahead cutting him off.
"Oom Tom," I said "I can not go through with this. You have been part of the heart and soul of Martinshof since its very beginning, and you will remain part of it, no matter what, as long as the company remains in my family's hands."
He was happy and very touched, more about my gesture than the money and I knew that my father was smiling down on me. A small, but emotionally very important decision.

A few months later I halted the financial slide and turned the company around, away from disaster and by Christmas (1982) I sold Martinshof to the Netherlands's largest, most powerful wholesaler Jansen Post and Cox (JPC). Oom Tom then of course had to resign his Directorship but he and I were both at peace with that. He had remained with us until the very end. I kept sending him and his wife a Christmas card every year until their death.


Comments - Next - Previous - Top - Page 1 - Photos - Michael's Blog - Jazclass Links

---

Copyright © 2009 Michael Furstner