The Martinshof Story - Page 7

Page | Previous | Next || 1 | 2 | 3 | 4 | 5 | 6 | 7 | 8 | 9 | 10 | 11 | 12 | 13 | 14 | 15 | 16 | ? |
---
Next - Previous - Top - Page 1 - Photos - Michael's Blog - Jazclass Links
26. Atelier Martinshof : The Niessing Stock Depot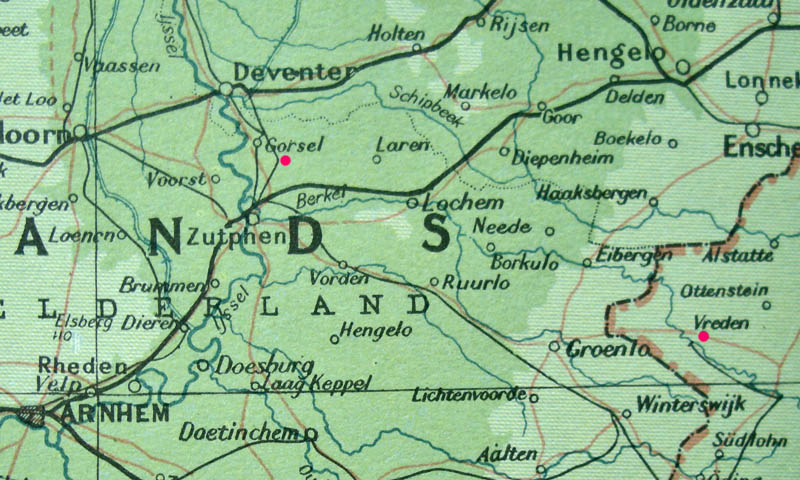 Soon after the first meeting between my father and Herr Exner a deal was struck whereby Martinshof would become the sole importer and distributor for the Niessing products.

Although the Niessing factory in Vreden was only 45 km away from Martinshof, it was across the Dutch-German border and all gold jewelry stock had to be imported.
There was no import duty on jewelry in the Netherlands but clearance of the goods could take several weeks as all imported gold had to be assayed and Hallmarked in the Dutch Keurkamer (assay laboratory) in Arnhem.

It was therefore decided that Niessing would install a "Consigniatielager" (stock depot) of a broad selection of their wedding ring collection at Martinshof. The stock would remain the property of Niessing and Martinshof would pay for the rings as they were being sold to jewelers in Holland.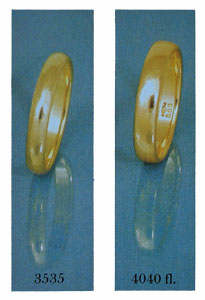 As sales progressed in Holland top ups of the stock depot became increasingly regular. Gradually the custom officials and Dutch Keurkamer became aware of this fact and my father was able to negotiate with them a much quicker and easier method of stock importation.
Every Monday we would telephone Niessing the order for the coming week. On Wednesday afternoon my father would drive by car to Vreden to collect the required rings from the factory. These would be placed on trays in a square metal box (about 40x30, 30cm high).
My father would take the box back to the border crossing where its contents would first be inspected and checked against the import documents by German custom officers, followed once more by the Dutch, who would then seal the box.
My father would then take the sealed box home and on the following morning deliver it to the Keurkamer in Arnhem. There the box seal would be broken and the rings assayed and hallmarked. This would take about 1-2 hours, after which my father could collect the rings and take them home, officially imported and hallmarked within the span of 20 hours.

As Martinshof grew various employees would carry out this task and I too have done this a number of times myself. After a few years the Keurkamer in Arnhem was closed down permanently (with several of its staff transferred to Utrecht), so that from then on a somewhat longer trip to the Keurkamer in Utrecht had to be made. But apart from that the importing process remained unchanged until the lifting of the borders of the European Common Market in the late 1980s.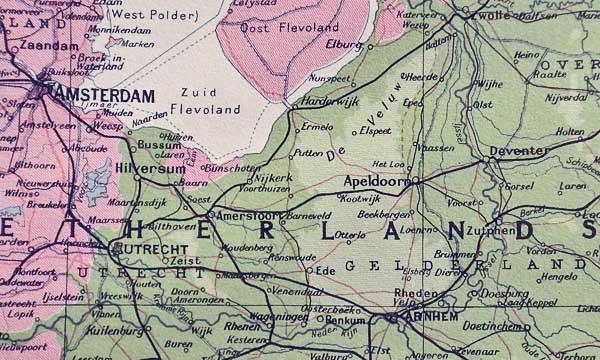 The Niessing stock depot was in one sense a good solution as Martinshof did not have to make the initial investment for it. But at the other hand it gave Niessing a strong voice in the running of Martinshof. Niessing, being a very conservative company, was not always in agreement with my father's decisions, and in the early 1960s, when my father's age passed the 55 year mark they (especially their solicitor) were rather worried about the absence of a successor to take over the business in case of my father's death.
At several occasions he therefore took me to meetings in Vreden, telling the Niessing management that I would take over in case he suddenly died. But as they all knew that I was planning to emigrate to Australia in 1965, this was of course not a very reassuring statement.
(When I eventually did take over from my father after his sudden death in 1981 and meeting their solicitor in Vreden I said to him was with a big smile on my face "See ? My father was right, wasn't he ?")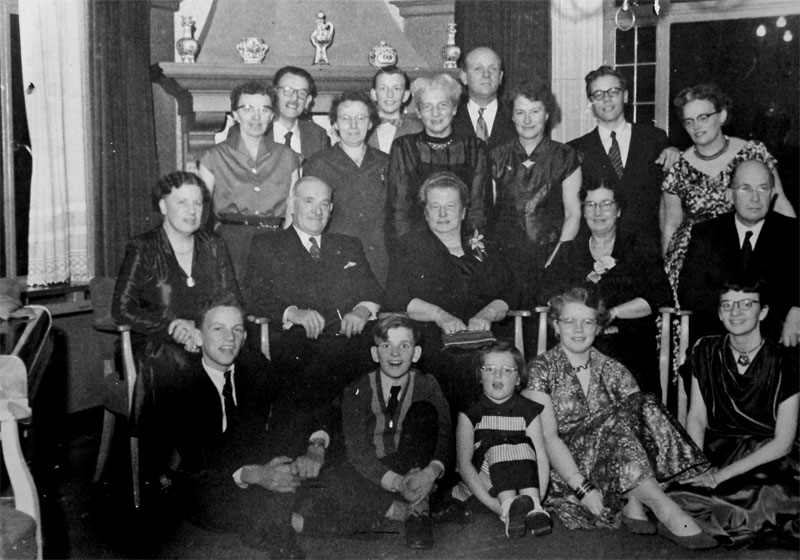 Thanks to a most generous inheritance from his uncle Cor van Sillevoldt, my father was able to purchase the entire Niessing stock depot in 1971, gaining through that his complete independence.

As it worked out his purchase was made at a very opportune point in time, because shortly after it, the formerly fixed gold price (of US$35 per troy ounce) was floated, rising rapidly soon after that.


---
Next - Previous - Top - Page 1 - Photos - Michael's Blog - Jazclass Links
27. Atelier Martinshof : The Magic of the Niessing Gold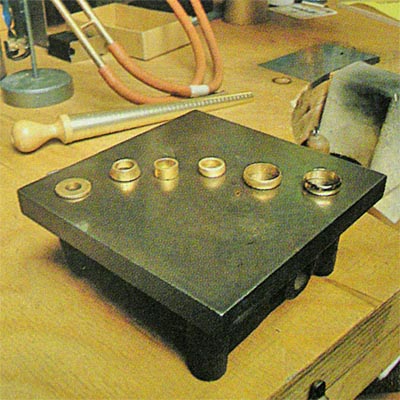 The composition and metallurgical process for the creation of their gold, perfected over a one hundred year period, was (and still is) the most strictly kept secret of the Niessing company, only known to a few trusted metallurgists within their factory.

Their gold has a wonderfully warm luster, which makes it instantly distinguishable from most other gold jewelry throughout the world. It also has enormous strength (in one advertisement a Mercedes car was suspended from a single wedding ring), but at the same time is not at all brittle and can be moulded into shape.

I spoke with several diamond setters at the time and they where hugely enthusiastic about the Niessing gold and loved working with it. "You can cut it with a knife as if it were butter, it curls smoothly, is not brittle at all and won't break, like most other gold does".

All rings manufactured by Niessing are seamless and moulded into their shape and size through six successive production stages as shown on above photograph. Once in its final form it can also be enlarged or reduced in size using a simple hand operated machine. For the stock depot held at Martinshof this was of the utmost importance.

Ring sizes in Germany and The Netherlands are standardised in terms of their diameter (measured in millimeters), and are spaced at half millimeter intervals. The most common range starts from about 15.5 millimeter for a thin female finger up to about 23 millimeter diameter for a thick male finger. These are therefore the most common ring sizes :
15.5 - 16 - 16.5 - 17 - 17.5 - 18 - 18.5 - 19 - 19.5 - 20 - 20.5 - 21 - 21.5 - 22 - 22.5 - 23
To cover a single ring model you theoretically would therefore need to hold 16 rings in stock (one for each of the above sizes) to fully cover that model. With the seamless, moldable Niessing rings however it was easy to enlarge or reduce any ring up or down a full millimeter (or even more) in size. All ring sizes for any one Niessing model could therefore be covered by holding just four ring sizes in stock :

16 - 18 - 20 - 22
It also enabled us to produce on request even more precise ring sizes (at 0.25 mm intervals), like a size 16+, or 18-.
For the most popular models there were usually 8-10 rings held in stock at Martinshof, but the size flexibility meant that Martinshof could hold many more different model rings in stock (and Niessing produced over 200 different models!) than otherwise would have been possible.

Besides our family, my father soon employed one other person in the business. This was a young woman book keeper who once or twice a week came in for a few hours in the evening to do the accounting work.


---
Next - Previous - Top - Page 1 - Photos - Michael's Blog - Jazclass Links
28. Martinshof NV (later BV) : The early years (1950s)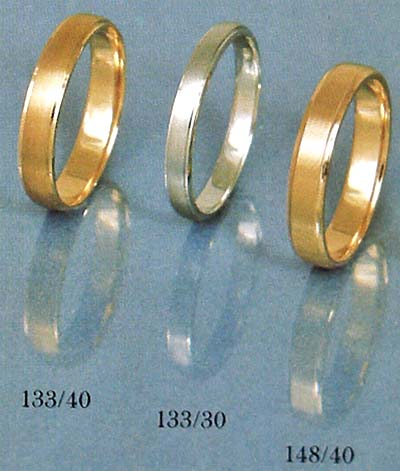 The first few years (through the early and middle 1950s) it were just my father and mother running the business, with me helping out whenever required. My father was on the road all week (now driving his first bright red Mercedes 180) visiting jewelers, while my mother stayed at home taking and processing orders by phone.
I quickly learned to operate the various machines in our goldsmith studio (now workshop) and would often work there (polishing, engraving, changing ring sizes) after returning home from High school.

We had an engraving machine which I in due course calibrated (with ruler marks on a plastic strip glued to one of its adjustment poles) for appropriate letter sizes to fit inside wedding rings ranging from 3mm to 12mm in width. When I returned to Martinshof many years later after my father's sudden death in 1981, Henny Everts (our senior diamond setter and engraver) proudly showed me the marks I had made still stuck on the machine and used by him throughout all those years.

My parents still held regular expositions with the Martinshof Collection at various prominent jewelers throughout the country. While they were away at such occasions I would be at home processing and dispatching all phone and mail orders. Even after I moved to Leiden in 1955 for my geology studies I would return home when needed and look after the business. My younger sister Wivica too (who in due course became a competent qualified goldsmith herself) started to help out in the business as she grew up.

My father soon took on our first employee. It was a young woman bookkeeper who would come in once or twice a week in the evenings for a couple of hours to keep our account books up to date and do any necessary typing.


Comments - Next - Previous - Top - Page 1 - Photos - Michael's Blog - Jazclass Links

---

Copyright © 2010 Michael Furstner