The Martinshof Story - Page 6

Page | Previous | Next || 1 | 2 | 3 | 4 | 5 | 6 | 7 | 8 | 9 | 10 | 11 | 12 | 13 | 14 | 15 | 16 | ? |
---
Next - Previous - Top - Page 1 - Photos - Michael's Blog - Jazclass Links
22. Atelier Martinshof : The Rotterdam Shipbuilders Connection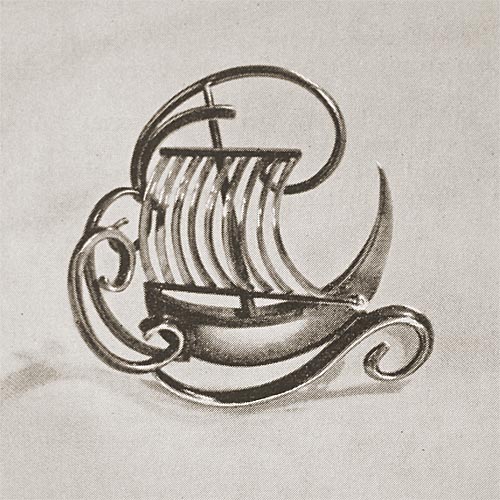 Despite the wide success in terms of promotion of the artists connected with Atelier Martinshof, sales were low in these early decades after the war.
One group of regular clients however were the ship builders of Rotterdam. I am not sure how this connection was established, but I suspect that it was made through my father's best friend Tom Jerne who, with his Cool and Freeze houses, had of course regular contact with the shipping industry in Rotterdam.
So every time a new ship was completed and launched into the water, the lady who did the honours would in most cases receive a Martinshof jewel as a memento to the occasion. Chris Steenbergen I believe in particular provided several of these items.


---
Next - Previous - Top - Page 1 - Photos - Michael's Blog - Jazclass Links
23. Atelier Martinshof : Visitors from Vreden, Germany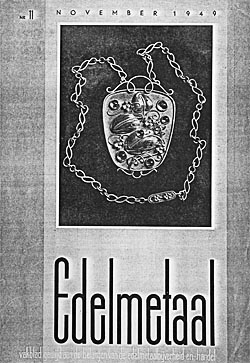 Around the time of our grand Summer Exhibition in Eefde Maud Smit left our home to move on to Paris, leaving behind a treasure trove of hundreds meticulously drawn fairy tale designs which we eventually purchased as a family privately and kept in our possession until very recently.

Eweg too had left Martinshof to go and work with Archibald Dumbar in his studio in Amsterdam. Whether he there continued to realise Maud Smit designs, or solely worked on designs by Dumbar I am not sure. He probably worked on both I believe as the Atelier Martinshof expositions continued for a decade or so onwards.

Gwendoline Dumbar (the Dumbar's youngest daughter) tells me that she and her three sisters too as children swarmed around Eweg while he was working in their studio. He was much loved by us all.

Then, on a late summer afternoon in 1953 (?) a car with German number plates pulled up in our driveway. Out stepped Herr Exner and his wife Frau Exner-Niessing. They were the owners of the prestigious, 100 years old, jewelry factory Niessing in Vreden, just across the border and a mere 50 km away from us.

Niessing makes some wonderful contemporary jewelry, but their main focus has always been on their huge range of wedding and eternity rings. The foundation for their great success however was (and has remained until this day) a fiercely guarded family secret : the unique composition of their gold. It has a fabulous warm rich luster unequaled by anything I have ever seen in my life. Having spoken with several diamond setters in the past they all commented on the ease of working with this metal : "You can cut and mold it like butter", while most other gold is brittle and breaks off easily.

The Exners had heard much about Atelier Martinshof and were most impressed by our artistic taste and by our standing in the Dutch and International jewelry and goldsmiths world. They were interested to establish a dealership for their products in The Netherlands and believed that Martinshof would be the ideal company to fulfill such a task.
Herr Exner and my father were of similar age and immediately warmed to one another. It took therefore very little time to come to agreement on a mutually beneficial partnership. This relationship between Martinshof and Niessing dramatically changed the future course and nature of Martinshof. It lasted for well over 35 years (until the European borders came down) and outlasted both partners' lives.


---
Next - Previous - Top - Page 1 - Photos - Michael's Blog - Jazclass Links
24. Atelier Martinshof : Its influence on us children 1 (Michael)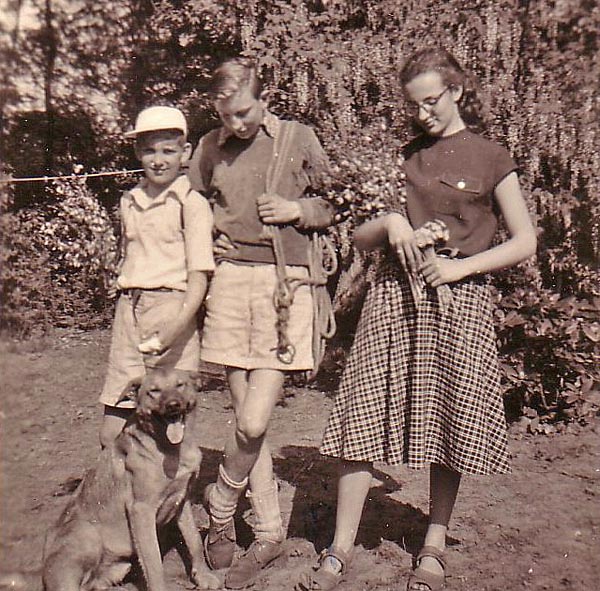 Looking in retrospect the careers and lives of us three Furstner children (my sister Wivica, brother Claus and myself Michael) have been strongly influenced by two important factors. One was the genetic characteristics passed on from our two parents, the other the enormous influence of the activities and environment of Atelier Martinshof at the time.
Genetically I resembled my father in terms of the predominantly abstract nature of our creativity. We both loved, in fact reveled, in searching for and creating new ideas, thoughts, directions, based on our observations, facts, evidence and circumstances.
My brother and sister on the other hand took genetically more after my mother in focusing strongly, like her, on a concrete, hands on style of creative expression, through actually creating "things", like paintings, pottery, jewelry, sculpture, etc.

Superimposed on these genetic characteristics was the Atelier Martinshof influence, and as the oldest child I was the first one to be concretely affected by it.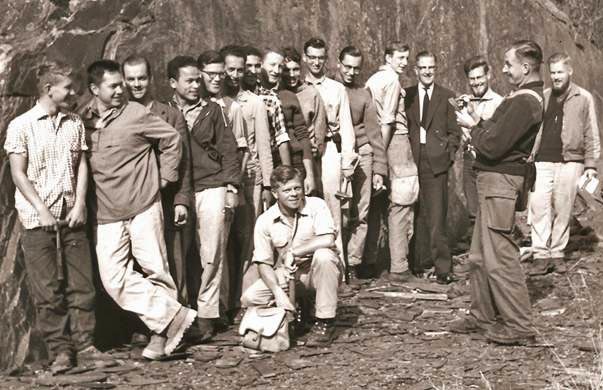 In 1955 I had graduated from High school and it was naturally assumed that I should go on to study at a University. I was at that stage still rather naive and immature and had given very little, if any, thought to what I wanted to do as a career in my life. I was not particularly interested in following in my father's footsteps but at the same time did not want to rule it out. Talking the dilemma over with my father we concluded that the nearest thing to studying jewelry would be gemology, but this field could only be entered (at the time) as a specialist direction after first completing a 4 year Bachelor degree in geology.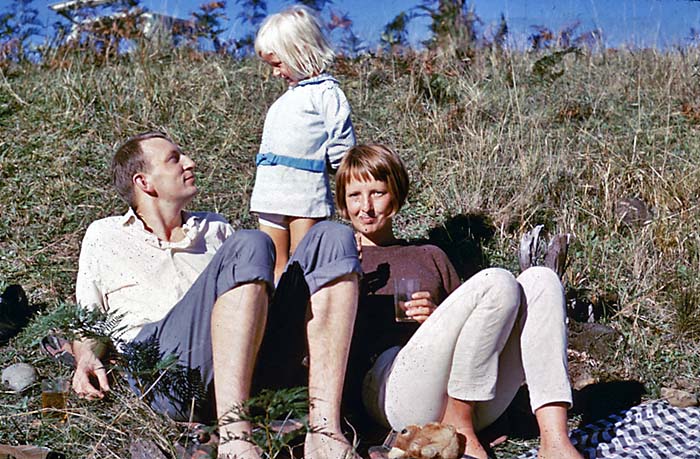 So that was it, and straight away I enrolled in Geology at Leiden University. After completing my Bachelor exam I went on to specialise in petrology (the study of crystalline igneous rocks), but that was the closest I ever got to gemology.
I was never a very seriously motivated student and much more interested in the hectic and fabulous social student life at the time. But I got easily through my exams without any trouble and actually enjoyed the research work on my two final theses I had to produce based on several summers of field work in Galicia (NW Spain).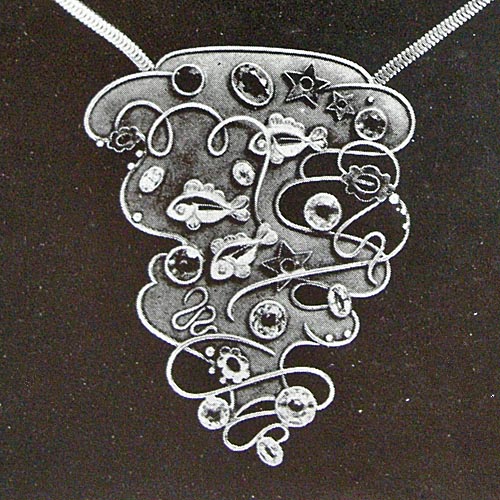 I also increasingly felt a strong desire to leave my home country, indeed leave Europe altogether, to immerse myself in a fresh new environment, and my profession as a geologist would of course easily facilitate that. My eyes became firmly set on Australia and with the assistance of my Professor Emil den Text, who had worked there himself, I got there (after completing 2 years of National service as an Officer in the Field Artillery) on New Years Eve 1965, together with wife Antien and 2 year old daughter Babette.

Therefore it was Atelier Martinshof, triggering a 10 year long chain of events, that got me to emigrate to Australia. It was without a doubt the most important and most successful decision I have made in my entire life, and I still happily reap the benefits from it today : I am still there!


---
Next - Previous - Top - Page 1 - Photos - Michael's Blog - Jazclass Links
25. Atelier Martinshof : Its influence on us children 2 (Wivica and Claus)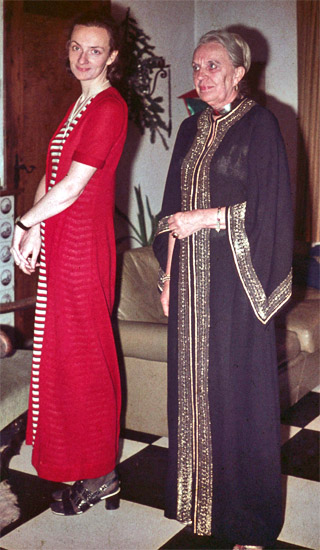 It is undoubtedly my sister Wivica who throughout her life has been influenced most by our parents and by Martinshof, largely because she was the only child that remained in Europe.
Reading through her story she has emailed me to help me write this I can not help but think that her life has been a continuous (subconscious) struggle between what she ought to do and what she really wanted to do.

From a very young age Wivica always wanted to paint and one of her earliest "canvasses" was her bedroom wall which she decorated with angels. But back in those days (mid 1900s) painting was not considered a reliable profession especially for a young woman, so on advise of her father she enrolled in the Goldsmith course at the Art Academy in Arnhem.

Wivica graduated there after 5 years of study in 1962 with her own "meesterteken" (Hallmark stamp to mark her own creations), then continued at the Specialist Goldsmith School in Schwäbisch Gmund (Germany) specialising in granulation work and diamond setting under the renown teacher Herr John. She also completed a course on gem stones in Idar Oberstein.
Wivica then worked either in the studios or behind the counter of jewelry shops in The Netherlands (like Vermaat in The Hague) and in Florence (Italy). Being quite a beautiful young woman, Wivica also modeled for several fashion houses in Amsterdam for a short period of time.
All the while Wivica remained painting in her free time however and she gave the very first small exhibition of her work in Florence around 1964. After following courses in Jewelry shop window display design in Switzerland and Germany, she worked for the renown Spritzer & Fuhrmann in Curacau, then for a firm in Germany designing window displays for Jewelry shops throughout Europe.

Always restless (a common Furstner characteristic) and now dissatisfied with her work, Wivica found herself in 1976 in Freiburg doing a course at a Massage School and after obtaining her Diploma as "Masseur und Mediciniesche Bademeister worked at several Spa resorts in the region until (in 1983) she had a small accident breaking two of her fingers. However during this period Wivica discovered that she had special gifts of healing which she wanted to follow through on.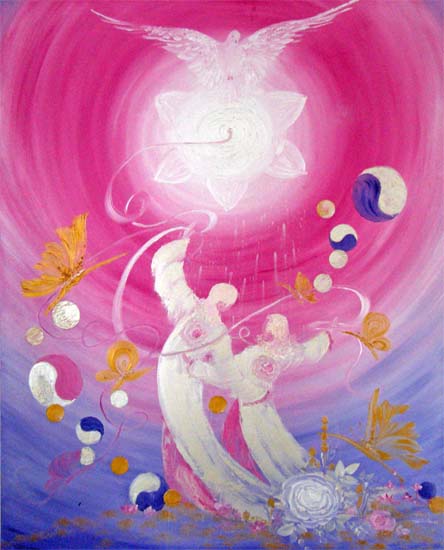 Through all these years she returned back home whenever required to help out with the Martinshof business. In a sense she took over as the principal assistant to my parents after I had vacated that "position" by emigrating to Australia in 1965, and she was still there when I returned after our father's sudden death in 1981. It was therefore most appropriate that she was there with our mother and me to finally hand over Martinshof BV to another firm in 1982.

Wivica cared for my mother until our mother's death in 1989, finally completing what she ought to do in her life. The struggle had come to an end, with what she really wanted to do, painting, as the ultimate winner.
Wivica now is a highly regarded Soul portrait artist living and working in Sankt Peter in the beautiful and tranquil Black Forest in South Germany, helping many people to understand and find a meaningful direction in their lives.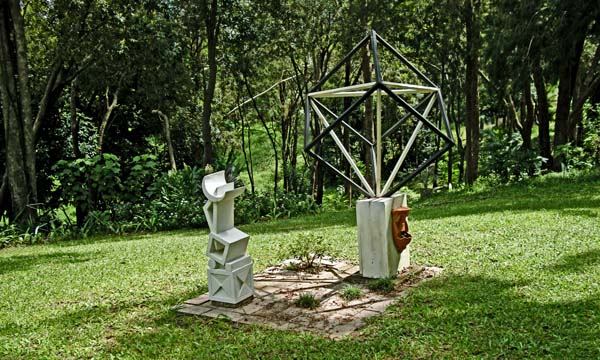 My brother Claus was the only one not influenced by the jewelry of Atelier Martinshof, but he was influenced by the art associated with it. Unsure what he wanted to do in life he spend some time at the Dutch ceramic company Zaalberg, then with the sculptor Piet Slegers, before finally finding his niche in photography. He too helped in Martinshof especially with some photography for advertisements and window displays.
Claus followed me to Australia in 1966 and after some mineral exploration work in Kalgoorlie worked as a photographer throughout his working life. He is now retired focusing on painting, pottery, especially carved items and sculpture. So his days with Piet Slegers have not been in vain after all.


Comments - Next - Previous - Top - Page 1 - Photos - Michael's Blog - Jazclass Links

---

Copyright © 2009 Michael Furstner