The Martinshof Story - Page 5

Page | Previous | Next || 1 | 2 | 3 | 4 | 5 | 6 | 7 | 8 | 9 | 10 | 11 | 12 | 13 | 14 | 15 | 16 | ? |
---
Next - Previous - Top - Page 1 - Photos - Michael's Blog - Jazclass Links
17. Atelier Martinshof : Archibald Dumbar and Chris Steenbergen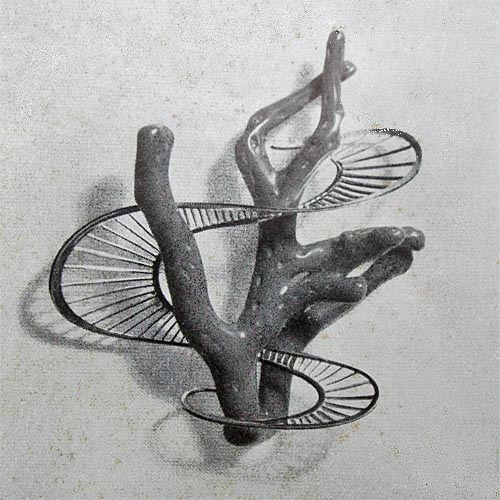 Annie Martinus stayed with us at Martinshof until after our return from Germany and left in 1947 together with the other temporary house guests. She was (I believe) never employed by Atelier Martinshof but held continuous contact with my parents.
Annie soon married the Amsterdam goldsmith Archibald Dumbar, while her sister Jannie Martinus married the goldsmith Chris Steenbergen at around the same time.
It was through Annie (now Annie Dumbar) that my father was introduced to these two young and upcoming modern artists. Both worked in their own studios in Amsterdam, but right from the early 1950s contributed to the Martinshof Collection during exhibitions throughout the Atelier Martinshof years. My father would also take their work around the country while visiting jewelry shops throughout Holland.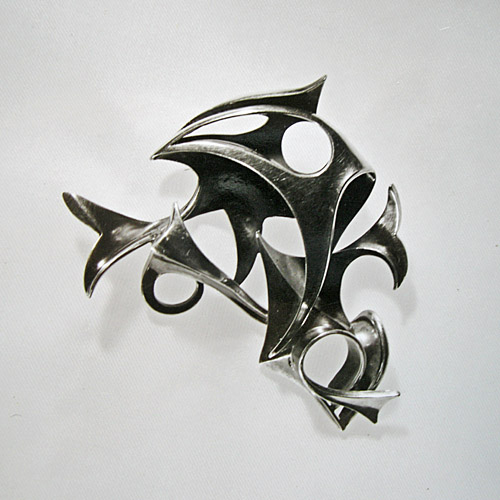 Both goldsmiths won the prestigious European Goldsmith of the Year Award (each probably several times).
Although these two brilliant artists have long since died, there still remains an intimate relationship between them and the Furstner family. Chris Steenbergen designed and made my signet ring (with family crest) in 1958 for my 21st birthday and Archibald Dumbar made one for my daughter Babette in 1983.

As mentioned above, Annie never officially worked at Martinshof but her youngest daughter Gwendoline Dumbar did for a while during the 1970s, which I believe she much enjoyed. Roel Fischer too, married to Annie's oldest daughter Astre, worked at Martinshof for a few years during that period.
Book : "Chris Steenbergen"
Published in 2000 by Stichting Fonds voor Beeldende Kunsten, Vormgeving en Bouwkunst,
Postbus 773, 1000 AT Amsterdam, The Netherlands.
The original Atelier Martinshof team
---
Next - Previous - Top - Page 1 - Photos - Michael's Blog - Jazclass
18. Atelier Martinshof : Magazine 'Eloy'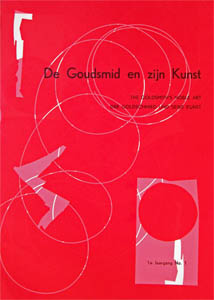 One of the objectives of Atelier Martinshof was to elevate the goldsmith to the same recognition and artistic level as other artists like painters, sculptors, composers etc. As part of this purpose my father published a specific goldsmiths magazine The Goudsmit en zijn Kunst ("The Goldsmith's Noble Art"). The name was later changed to Eloy after the Patron Saint of the goldsmiths' guild "St. Eiligius".

The text of the magazine was printed in four languages, Dutch, German, English and French and it presented work of artists from Holland, Germany, Sweden, Switzerland, Italy, France, Scandinavia and even the USA (Adda Husted-Anderson from New York).

Cor van Weele from Amsterdam, the principal photographer for the Martinshof Collection, designed the attractive modern front covers for it.
Unfortunately, probably because of financial restraints, only two editions of the magazine (in the early 1950s) were ever published.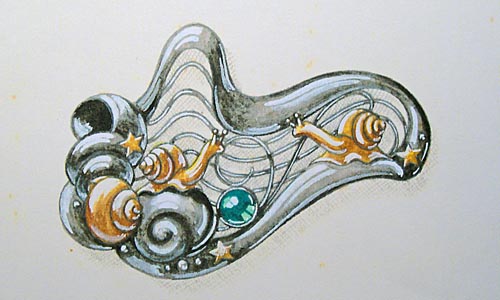 My father's promotional efforts with the Magazine Eloy can be seen as part of a European wide push at that time to give goldsmiths wider and greater recognition. The culmination of this effort was the yearly selection of a European Goldsmith of the Year instigated by the German Gesellschaft für Goldschmiedekunst ("German Guild of Goldsmiths") after WW2. The recipient of this award received a Ring of Honour traditionally designed and crafted by the previous year's winner. A wonderful idea. It was internationally recognised as the highest ranking Goldsmith award in the world.


---
Next - Previous - Top - Page 1 - Photos - Michael's Blog - Jazclass Links
19. Atelier Martinshof : Edda Marie Dierkes and Sigurd Persson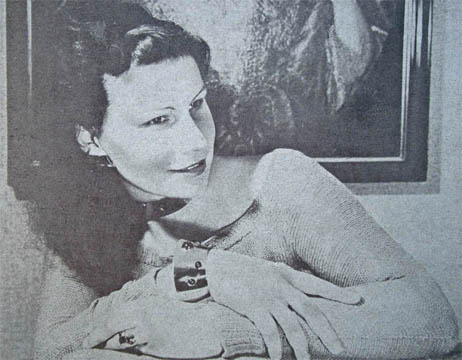 Besides the core group of Dutch artists (Maud Smit, Eweg, Chris Steenbergen, Archibald Dumbar, plus the young addition Dea Mulder) several artists from outside the Netherlands also contributed with their work to the Martinshof Collection.

One was Edda Marie Dierkes Prinzessin zu Erbach Schönberg (a cousin of the then Dutch Queen Juliana) from Darmstadt in Germany. As a young student I visited her once with my father at her home in Darmstadt, a very beautiful and intelligent woman. She contributed regularly to the Martinshof Expositions with some bold very attractive work.

Other German contributors included Elisabeth Treskow from Köln and Otto Hahn from Bielefeld.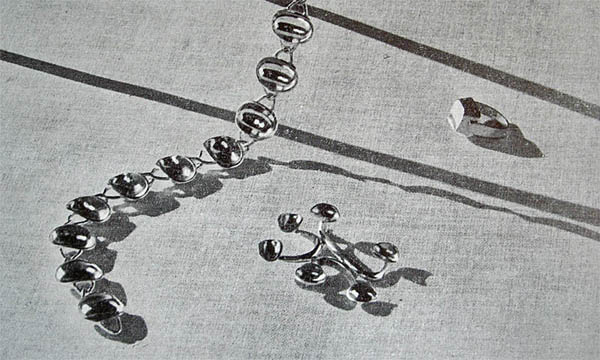 Sigurd Persson from Stockholm was a contributor from Sweden. Persson was especially famous for his modern serial production designs. He initially was the chief designer of the most progressive jewelry company in Sweden, Atelier Stigbert, but in 1952 started his own studio. He is another Martinshof contributor who won the prestigious European Goldsmith of the Year award.
Martinshof was the promoter and distributor of his 'Scäla och Ruta' collection in Holland. This was designed using two simple shapes only, concave elliptical dishes and rectangular diamond shapes, all produced in silver. Unfortunately the general Dutch taste was not yet ready to embrace the progressive modern Scandinavian style, and sales of this very affordable product were rather poor.
Book : "Schmuck, von der Prinzessin Edda Marie zu Erbach-Schönberg"
Published in 1955 by Kultur-Verlag Kunst und Leben, Emden, Germany


---
Next - Previous - Top - Page 1 - Photos - Michael's Blog - Jazclass Links
20. Atelier Martinshof : Summer Exposition of 1952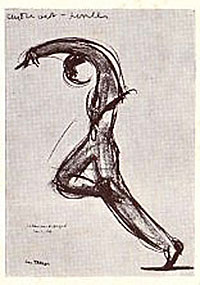 The undisputed highlight and, certainly for me, most memorable event of the Atelier Martinshof years, was the exposition in the summer of 1952 held at our own home in Eefde.
The entire ground floor of Martinshof was used for exposition space : lounge, dining room, office and studio, plus the large lawn outside. Only the kitchen and library were kept for our personal use.
The exposition was held over two full summer months with a wide selection of art on display. There was of course the jewelry of our regular contributors : Maud Smit, Eweg, Archibald Dumbar, Chris Steenbergen, Edda Marie Dierkes, Sigurd Persson, and hand made dolls by my mother.

We had also a selection of charcoal and gouache drawings from the French painter Jean Target, depicting dancers, with his highly characteristic strong flowing sinuous lines. I absolutely loved these.

Another contributing artist, also from Paris, was a lady (forgot her name, "Madam.....") who arrived at Martinshof on the back of a 750cc BMW motorbike driven by her friend the well known Japanese sculptor Shinkichi Tajiri.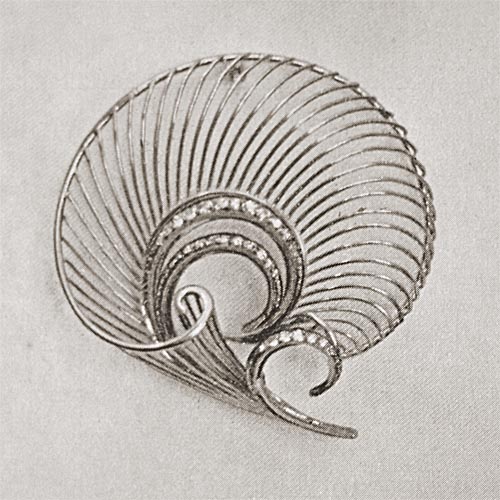 I vividly remember us sitting around the table in the Martinshof lounge while she unwrapped her creations : the most amazing jewelry made of short lengths of 2-3mm (0.1inch) thick steel wire roughly soldered together into large bold shapes containing irregular fragments of antique glass (up to 3cm, 1+inch in size) in various colours.

I particularly remember a pair of ear hangers, stretching (like a cloth hanger) 10-12 cm out horizontally underneath the ear with on each end a cube shaped steel wire basket containing a loose piece of coloured glass. It was extraordinary, and could easily be used as a decoration hanging against a wall.

Curiously I was reminded of her work just the other day (29 May, 2009) when photographing the coloured glass fragments in the pavement around the Darwin Airport Gateway Motel's swimming pool. The fragments in the lady's jewelry where shaped just like that, except of course considerably larger in size.


---
Next - Previous - Top - Page 1 - Photos - Michael's Blog - Jazclass Links
21. Atelier Martinshof : Piet Slegers at our Summer Exposition of 1952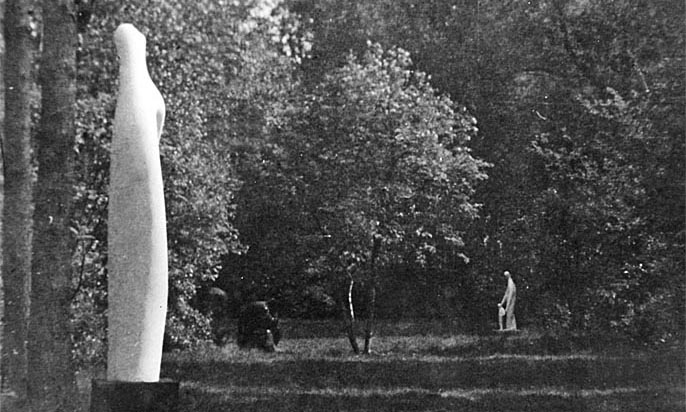 Complementing the small scale art inside, there were 6 large sculptures by the then young Dutch sculptor Piet Slegers on display on our lawn.
Slegers had just returned from an apprenticeship with the famous sculptor Henri Moore in England, and this recent association showed of course strongly in his work at that time.

The sculptures were crafted in either white or charcoal black cement smoothed over a steel mesh and wire frame. They were simplified smooth rounded abstract human forms each expressing a distinct mood or intention.

Piet Slegers on principle never gave his creation a title or name, this way, he felt, the observer would be free to make his/her own interpretation of his work. We however had provisional names for the sculptures, reflecting, what we perceived to be, their essence. I still remember them all, they were :

In white : "Striving for higher things" and "Mother and Child"

In black : "The Thinker" and "The Harvester", and (not on the photo) "The Madonna" and the "Struggler for Freedom"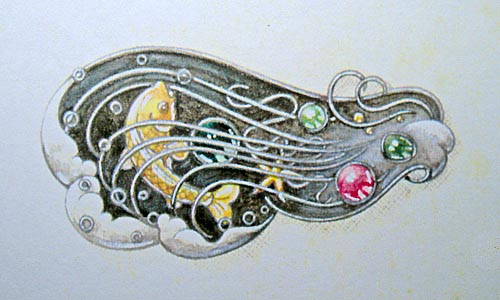 Throughout that summer we received regular busloads of ladies at Martinshof. As my father usually was away on the road, my mother and I would divide each group into two, guiding each one group around the exhibition. One of us would start in the studio pointing out and explaining all the goldsmith's traditional tools (including of course the traditional rabbit foot used for collecting all gold dust) while the other started in the garden.
I most enjoyed showing the ladies around the sculptures of Piet Slegers. First, while standing on the terrace overlooking the entire group, there would always be much giggling and funny remarks about these "unperfect" human images. But as I slowly took them onto the grass, explaining close up each sculpture in turn, their attitude always dramatically changed. In the end they would leave the garden with a much greater appreciation of modern art, which in turn left me with a most rewarding feeling.

So when Slegers dropped in one afternoon to see how things were going, I (age 15) enthusiastically took him around the lawn explaining to him my interpretations of each of his own creations. He took it very good naturedly and with a smile on his face. We must have been quite a pair to watch, both wearing black French barrettes, he twice as tall (and old) and skinny me excitedly gesticulating at each of his sculptures.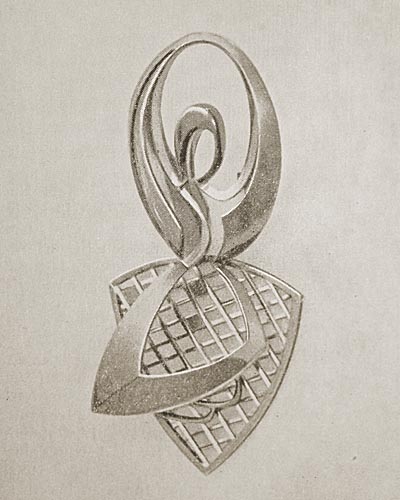 Although very simple in shape these early sculptures of Slegers had an enormous strength in both line and form, and are etched in my mind forever. Probably due to a lack of funds to remove them these six sculptures remained on our lawn for a couple of years, which we all appreciated enormously.
Eventually Piet took them back to his studio and destroyed them all. He had dramatically changed his style, leaving the smooth rounded forms behind him and producing initially very spiky sculptures instead, which reminded me at the time of the work of Japanese sculptor Tajiri. In the end Slegers progressed to bold sharp geometric forms, some embedded in nature itself, one of which can be seen at the Kröller Müller Museum (near Otterloo NW of Arnhem) in the Netherlands.

Piet Slegers went on to become one of the icons of Dutch modern art, counting the present Dutch Queen Beatrix amongst his regular students. My brother Claus too worked with Slegers in the early years, now producing interesting work in various mediums, including sculpture.


Comments - Next - Previous - Top - Page 1 - Photos - Michael's Blog - Jazclass Links

---

Copyright © 2009 Michael Furstner