Biographical Log of Michael Furstner - Page 58
2008 : Jan | Feb | Mar | Apr | May | Jun | Jul | Aug | Sep | Oct | Nov | Dec || 2009 Page : Previous | Next |
---
Most Recent - Next - Previous - Page 1 - Photos - Index - Topics - MP3s - Jazclass Links
Saturday December 6, 2008 (diary)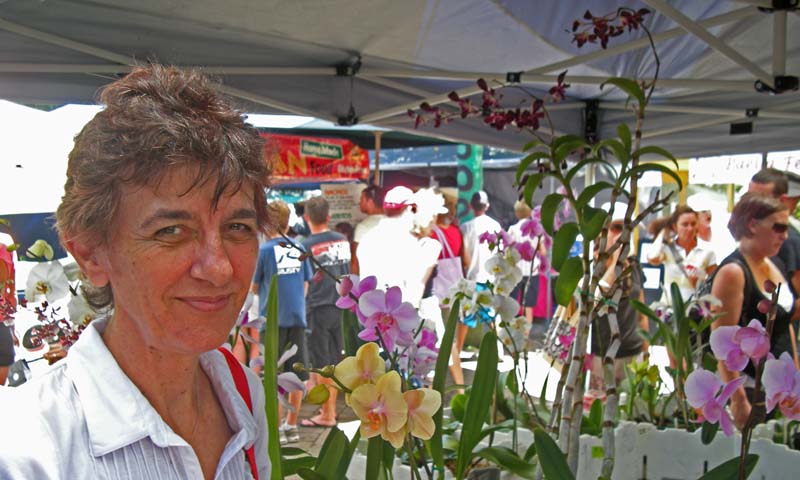 It is overcast early in the morning, but gradually the sky clears to a lovely sunny day until towards evening a refreshing thunderstorm and rain pour descends upon us.
I get up early, do my 5BX exercises, then at 8 AM onto the Eudlo train station to pick up Freda (my bridge partner from Darwin) who is visiting for the day. The train is right on time and we first drive to ThreePonds for a quick stop. Freda (with two 15 year old cats herself) is an animal lover and immediately takes to Tin Tin and Nushi.
After a coffee and chat with Babette and Doug we drive on to the Eumundi Markets (in nearby Eumundi) which are on this morning. It has grown over many years and is now a huge event, even larger than the famous Darwin Mindill Beach Markets. Whereas the Mindill Beach market's mainstay is food, at Eumundi they have an enormous range of merchandise, most of it quality stuff. Freda has therefore little trouble finding several Christmas presents to take home. After almost three hours we both have had enough and we proceed to the Mooloolaba Surf Club for a few drinks and lunch.
After lunch Freda suggests I have my daily swim in the surf while she checks out the Club's range of Poker machines. A few dollars lighter I pick her up again and after a brief walk along the Esplanade, I drive her to Caboolture to catch the 4 PM train back to Brisbane. This gives her enough time for a brief rest in her motel before setting off to the Billy Joel concert tonight. I am pretty tired when I get home (just before the storm arrives), have a snooze and then watch The Bill on TV with Babette and Doug. It has been a good day.


---
Most Recent - Next - Previous - Top - Page 1 - Photos - Index - Topics - MP3s - Jazclass Links
Sunday December 7, 2008 (diary)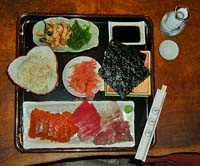 Now that I am back into swimming in the surf I realise how much I have missed it. I felt somehow disconnected from the Sunshine Coast these last two years. This emotional connection is now well and truly re-established. Nature always has an enormously powerful influence on me, undoubtedly because I grew up in the woods.
Every day as a young boy, immediately after returning home from school, I would usually roam through our forest or climb high up into one of the old oak trees near our home and right on the forest's edge. I would stand on one branch and hold on to another while being swayed backwards, forwards, up and down by the wind. I get a very similar feeling now, when I splash around in the surf.
This afternoon I try to make a recording of Erik Satie's third Gnossienne. I make a couple of recordings but when I load them onto my computer find out that only one of the stereo tracks has been recorded. I soon find the trouble. Our cute new puppy dog Nushi has been chewing on the lead connecting my keyboard to the digital recorder. I should have spotted the problem while recording as the recorder info window displays input signals of both tracks, but I had not bothered to look. Live and learn.
After re-establishing the stereo connection by massaging the chewed bit of the cord I do a few more takes, convert one of the .wav tracks into mp3 on the computer and upload it online. Done, I quite like this one.
It is Babette and Doug's "free day" from their diet today, so we have an enormous sashimi feast with, of course, a bottle of sake. All is well that ends well.


---
Most Recent - Next - Previous - Top - Page 1 - Photos - Index - Topics - MP3s - Jazclass Links
Monday December 8, 2008 (diary)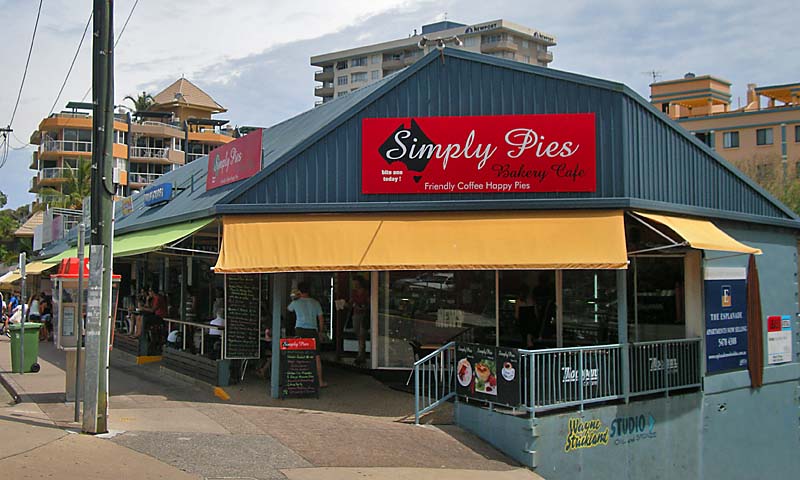 It is somewhat overcast today, with intermittend sprinkling of rain. The sea is quiet and flat with well rounded 1 metre high waves without caps, just right for some good body surfs.
I have lunch at Simply Pies today, their Aussie Special : home made pie, mashed peas, mashed potatoes and gravy, for just AU $ 7.50. It is quite delicious.They have a great selection of home made pies, pasties, sausage rolls, and also serve a good breakfast until 10 AM.
If you are in Mooloolaba a visit to their shop is a must. Simply Pies is located at the Southern end of Mooloolaba's Esplanade in the last remaining old building along the beach front, close to the Surf Club.
The financial crisis is really starting to bite now, especially in the US. Over half a million people lost their job there last month alone. Only the Spam company is smiling, they are having a rush on their affordable product, so famous in the army during World War 2. My family too, in refugee camps in Germany after the war had ended, had a good taste of it. Spam is still available in Australian supermarkets today. But having a choice I rather prefer to go to Simply Pies.


---
Most Recent - Next - Previous - Top - Page 1 - Photos - Index - Topics - MP3s - Jazclass Links
Tuesday December 9, 2008 (diary, freedom from religion)
Freedom 8 continues from November 25
Queensland has always been regarded as a somewhat backward parochial State, and despite the enormous influx of migrants from the Southern States, this perception has not changed much. And understandably so. While farmers in NSW, Victoria and SA are improving their land by planting new trees, in Queensland they are still pulling them down. Some progress was made on dental health last week, when a brave Queensland Premier (Anna Bligh) gave the go ahead for putting fluoride in Queensland's drinking water. Although 40 years behind the other Australian States, there are still protests being heard.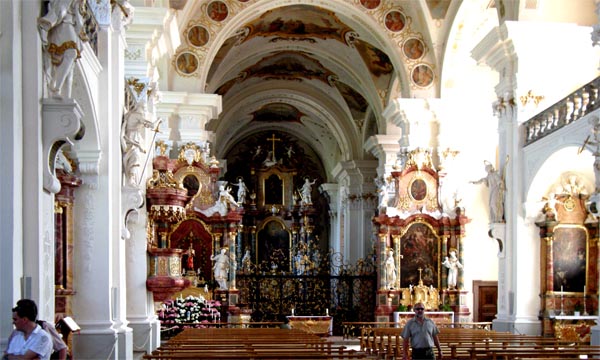 Not surprisingly perhaps, Queensland is also probably by far the most Christian religious State, with SE Queensland the undisputed bible belt of Australia.
A cry of protest about a lack of freedom from religion was printed in 'The Australian' newspaper last week from a brave young father in Toowoomba (the very buckle of the belt). Twice now he had to move his son to another Public school because he did not want his child subjected to and indoctrinated by religious "mumbo jumbo". As a last desperate act the son is now learning by correspondence school.
Australian Public schools have always (I assume ?) been unbiased and free from Christian (or any other) religion. However this changed in October 2006 when the Howard Federal Government introduced a new scheme offering to pay for the employment of a trained Christian chaplain for any Public school who wished to have one. As a result 80% of the Public schools in Queensland now have a chaplain. Finding a Public school free from religion is therefore now much harder, and in many areas virtually impossible.
Reflecting on this story it suddenly occurred to me that there is a marked difference between the United Kingdom and The Netherlands. The Queen of England is both Head of State and Head of the Anglican Church. England is therefore a Christian State, and by extension so is Australia. In Holland this is not the case. Queen Beatrix is Head of the State, that is all. State and religion are clearly separated, ensuring freedom of and from religion for all.
Interestingly this difference is clearly reflected in both National anthems. Unlike the British anthem there is no mention of a "God" in the Dutch anthem. On the contrary it honours William of Orange the very man who liberated the Dutch form Spanish Roman Catholic suppression.
My parents and I had a clear choice between a Christian and non Christian school, both at Primary and High school level. I now realise how precious that is for all who live in that country. No wonder Holland is so far ahead on many of the moral issues and dillemas that confront us today. Sadly, Australia appears to be moving backwards, through the gradual erosion of freedom from religion in schools and the biassed indoctrination of children as a result of it.
---
Most Recent - Next - Previous - Top - Page 1 - Photos - Index - Topics - MP3s - Jazclass Links
Wednesday December 10, 2008 (diary)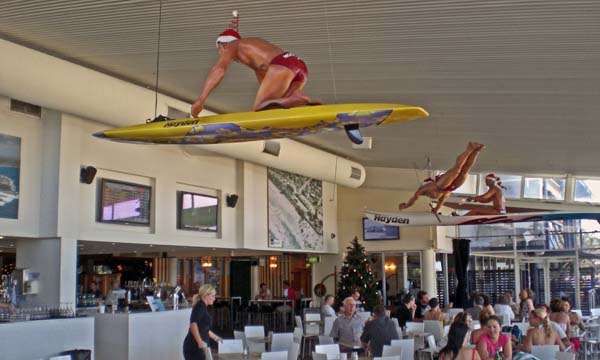 Lou (Louise), the Bar Manager of the Mooloolaba Surf Club asked me yesterday if I would be willing to give her a character reference, she plans to apply for a teaching position at the local TAFE College. Although we only occasionally exchange a word or two, I have known and observed her at work in the Club for many years. She runs the bar staff very efficiently and has good working relationships with all, so I am happy to oblige, and send her my reference by email.
The Mooloolaba Surf Club is one of the most tidy Clubs I have ever been to. No sooner have patrons vacated a table or their empty glasses or plates are instantly removed, the table wiped clean and the chairs put back into place. This makes coming here always a most enjoyable experience as everything around you is always neat and clean. Many Australian Clubs and Pubs are well below such standard.
It is a glorious sunny day again today, pleasantly warm and with a clear blue sky. It is right at the point of low tide when I arrive at the beach and there are a few bits of seaweed floating near the edge, but the waves are good for several descent body surfs. When I started surfing again last week I rather burnt the skin of my bald head the first two days. But now I cover my head with a thick layer of water resistant 30+ sunscreen and that seems to be protection enough for the half hour or so I stay in the water. My left upper arm too is clearly improving as a result of my swim movements.
It is Wednesday again, so Babette has her evening writing class, Doug is again off to the Blues night in Palmwoods and I have a meal at the Thai Parnit in Nambour. Next week we will be back to normal as both the writing lessons and Blues night have finished.


Comments - Most Recent - Next Page - Previous - Top - Page 1 - Photos - Index - Topics - Jazclass Links

---

Copyright © 2008 Michael Furstner