>
---
Most Recent - Next - Previous - Top - Page 1 - Photos - Index - Jazclass Links
Wednesday February 20, 2008 (bio, Adelaide, Jazz College)
Freedom 3 continues from February 18
After our split up in Bougainville Antien and I both, separately, moved to Adelaide in South Australia. Here I worked disheartedly as a Consultant for Western Mining for 10 months, then quit my job, to start on January 1, 1981 on a new career in music. Within 6 months however my studies on saxophone and piano where interrupted when my father suddenly died of a stroke and I rushed to Holland to run the family business (story later).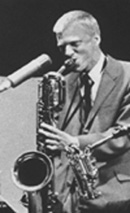 I returned to Adelaide on the 24th of August 1983, and immediately contacted the Jazz Department at the South Australian College of Advanced Education (SACAE).
Hal Hall, a brilliant and inspirational Jazz Educator form the USA was in charge and kindly took me on as a private saxophone student. Within months I also started to take, on Hal's recommendation, private piano tuition with Dr. Graham Williams
A few months later I auditioned for entry into the Jazz College, but failed, as Hal beforehand had warned me about. However my relentless practice regime had impressed him and he allowed me to unofficially follow the classes throughout the next year and promised to credit me any subject I would pass the following year, provided of course I would pass the audition next year. His offer was not entirely unselfish as I majored on baritone sax, an instrument badly needed for the College Big Bands and Concert Band.
From a very young age I had been inspired by the wonderful flowing melodic improvisations of Gerry Mulligan and his characteristic baritone sound. Later I also listened to the less well known English baritone sax player Ronny Ross and was blown away by his uniquely mellow highly sophisticated tone. That decided me forever.
Going through that College was the hardest thing I had ever to do in my life. I studied 10 to 13 hours a day, 5 days a week. I always rested for two days over the weekend and also took all College Holidays off. This enabled me to keep up this regime for 6 full years.
For once, at age of 47 (and as a beginner with less than 6 months practice under my belt) I was at the absolute bottom of the pile. All other students had a minimum of 6-7 years experience and I usually sat in class next to 18 year old Andrew Firth, then already one of Australia's most brilliant clarinetists who could play any Bennie Goodman solo backwards, and faster. He also regularly performed on stage with Don Burrows and other top class performers. Andrew as well as all other students (most at age 18 to early 20s) never put me down, but often helped me with useful advice and brief mini lessons on articulation etc. It was really wonderful.
Besides a life long love for music and the wonderful creative freedom of Jazz improvisation I was deep down motivated by a relentlessly powerful force. Never, never, never would I ever go back to my previous profession or any other job where I would have to work for a company or for someone else. I realised that at work I had always felt like a prisoner. All Companies I worked for had owned me for 8 hours a day, 5 days a week (at least), and had always told me what to do. It had depressed me beyond description. I would never return to this again.
And I never did.
Freedom continues February 21


Comments - Most Recent - Next Page - Previous - Top - Page 1 - Photos - Index - Topics - Jazclass Links

---

Copyright © 2008 Michael Furstner