>
---
Most Recent - Next - Previous - Top - Page 1 - Photos - Index - Jazclass Links
Monday February 25, 2008 (bio, Sunshine Coast, music teaching, sax quartet, Start Jazclass web site)
Freedom 5 continues from February 21
During the Jazz College summer recess in '85 or '86 I went with my son and a friend on a fly-drive holiday to the Sunshine Coast. Driving North from Brisbane Airport and nearing the end of our journey while darkness was setting in the road climbed up a hill. Looking to my left when reaching the top ("Shell Station Hill") I saw a sleepy hollow full of twinkling lights. It was so like the typical opening scene of cartoons like Pinnocio, or the closing scenes like The Flintstones, scenes I had always loved as a child (and truth be told, still do!). An instant pang of envy went through my body. The next day I found out this place was called Nambour.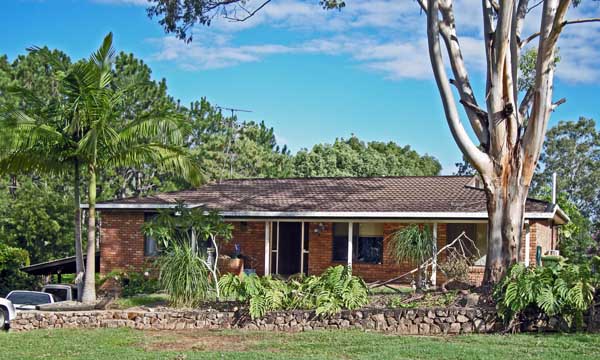 After deciding in '91 it was time for me to leave Adelaide, I drove the 2,200 km to the Sunshine Coastin my tiny 3 cylinder Daihatsu 'Handivan'. I went straight to Nambour, as from a strategic point too this small sugar cane country town was ideally located as a suitable base. It was halfway between the coast to the East and the Blackall Range hinterland to the West, either region only 10-20 km away.
Within 3 days I had spotted and bought a suitable home in a cul de sac (Hall Court) on top of a small hill. The house had a large room underneath (connected via a wooden spiral staircase to the floor above) which became my music studio. I taught here three days a week, the other two I went on the road teaching at private homes, one day at the coast, the other up the Range. I had a great variety of students (both young and old) on saxophone, clarinet, flute, piano, piano accordion and of course Jazz improvisation. The setup suited me well.
A wonderful time of consolidation after all my frantic hard work to become a musician set in. Also a feeling of enormous relief. I had made it and would survive without having to go back to the depressing environment of working for others in a job I did not like. I had written two music books while in Adelaide and added another four while in Nambour.

I also formed a few small combos, a duo with a female singer from the Range, a trio with a banjo and bass, and a saxophone quartet with three very capable professional players. Unfortunately the repertoire on the Sunshine Coast was, and still is, very limited. With the wonderful bands in Adelaide we had plenty of opportunities to perform the full range of musical styles, from Medieval, Classical, Satie, Kurt Weil to ultra modern music using vacuum cleaners, piano lids, blowing on mouthpieces only etc. Also of course the full range of Jazz styles in both small groups and Big Bands. In country Queensland most of this was not on, just the usual popular music, Trad Jazz and Swing stuff, forget about the rest. Nevertheless we had a lot of fun.
In '96 Michael Strong, a young IT consultant from the Range, became one of my sax students. Instead of paying for his lessons he built for me a web site online, programming my first few lessons in HTML. Soon I got the hang of what he was doing and I took over myself. It opened a new direction in my life I could never have dreamed of.
I started writing music courses first by email, but soon after in proper HTML format which I initially sold on 3.5 inch diskettes, then on CDs and now also as direct downloads.
By 2001 I had generated enough online business to stop face to face tuition, 10 years of that was enough I felt. Been there done that ! I had also become restless again, and wanted to utilise the new freedom my online business allowed for.
My son Jeroen had moved from Adelaide to tropical Darwin in the early 90s and was very happy there. I soon started visiting him, first for a week, then two and eventually for a couple of months each year. I absolutely loved it there, it was a real place with real people. The Sunshine Coast had also lost some of its appeal to me. Too many retirees, seachangers and treechangers had deluted the original rural and coastal communities. It was time to move on. Darwin here we come !
Freedom continues on February 29


Comments - Most Recent - Next Page - Previous - Top - Page 1 - Photos - Index - Topics - Jazclass Links

---

Copyright © 2008 Michael Furstner