>
---
Most Recent - Next - Previous - Top - Page 1 - Photos - Index - Jazclass Links
Friday February 29, 2008 (bio, Darwin, camping, freedom, awareness, idea : tropics, equator, space time)
Freedom 6 continues from February 25
Upon arrival in Darwin in 2001 I first stayed with my son Jeroen. After about 3 months some tenants moved into my house in Nambour so I too could afford to rent somewhere. I found a lovely 1 bedroom unit in Elsey street, Parap. The street name was the same as my mother's, the famous Parap markets (every Saturday morning) where just around the corner and the Darwin Sailing Club too was only 500 meters away. So the location was ideal.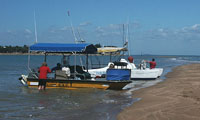 I soon became involved with the Darwin Sailing Club as a volunteer rescue crew member, helping out on the start boat (Sandy), operating the flag signals for starts and finishes for the yacht races every weekend. In due course I switched to the onshore Command Tower to process all race results on the computer, and the last few years I became OOD on occasions when Donnie the Sailing Manager was unable to run the races himself.
I loved Darwin, but found the "build up" period, usually starting in October, very hard to take. It consists of several months of high humidity, but without the relief of rain. This period can last for 2 to 3 months, and some years even to 4. I copped one of the bad ones and decided this was not for me.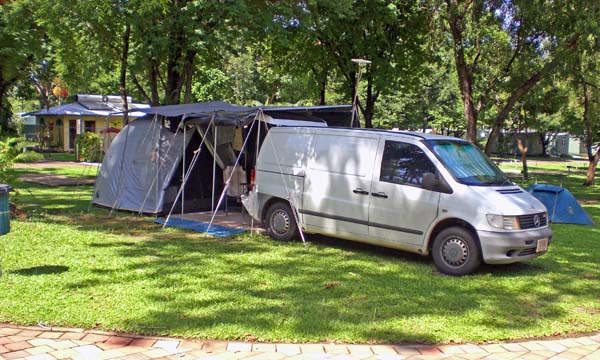 So I bought a new Mercedes Vito van, had it fitted out with some full width shelves by a cabinet maker and left Elsey Street to tour around Australia.
The purchase of my new Kyocera mobile phone with in built CDMA modem, allowed me to pick up my online orders and service my web site wherever I was in Australia. A new step forward in my never ending quest for greater freedom.
I left Darwin late October 2002, traveled Westward and in anti clockwise direction, arriving at the Sunshine Coast late January 2003. On the way I had extended stays in Broome, Kalbari, Busselton, all on the West Coast of WA, and also in Tumby Bay on the East Coast of the Eyre Peninsula, SA (50km N of Pt.Lincoln). These are the small places I liked best.
I started out on my travel just sleeping on the bed in my car and during day time sitting under the rear door of the van. Gradually this set up was extended with various tarpaulins and finally a tent. These days I sleep in the tent on a field bed and also have a small fridge and my keyboard in there. A microwave oven and TV are in the van. All quite comfortable.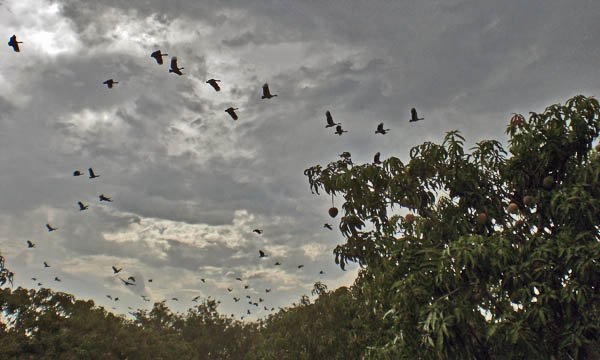 I now mainly commute between Darwin and the Sunshine Coast. In Darwin I camp on a small mango farm owned by the previous managers of a caravan park I used to stay (Kim and Andrew). A few of the "regulars" from the former park stay there during the dry season each year. It is a small community of people I like and get on with very well. We all love it there. When the build up season starts we all move South again, and I always stay with my daughter Babette and Doug at ThreePonds on the Sunshine Coast. Come March, and I am off again back up North.
Awareness 3 continues from Feb. 27 and Freedom continues
It is no accident that I keep gravitating towards Darwin every year. It is a very special place. I feel a greater sense of freedom there than anywhere else in Australia. Most of all it are of course the attitude of the people there and the free lifestyle of the Northern Territory generally. But also one feels closer to the rest of the world. Papua New Guinea, Indonesia, even Singapore are nearer than Sydney. Here my mind easily reaches out across the seas to all of Asia and even in the far distance, Europe. Darwin is for Australia the natural gateway to the rest of the World.

When I look back at all the places I lived during my life there are three places that stand out from the rest, Yonki in the PNG Highlands, Bougainville Island (also PNG) and Darwin. At these three places in the Tropics, nearest to the Equator I have felt most exhilarated, excited, experienced every day as an adventure. And every time I moved away, down South to Australia, there was this sense of disappointment, of boredom.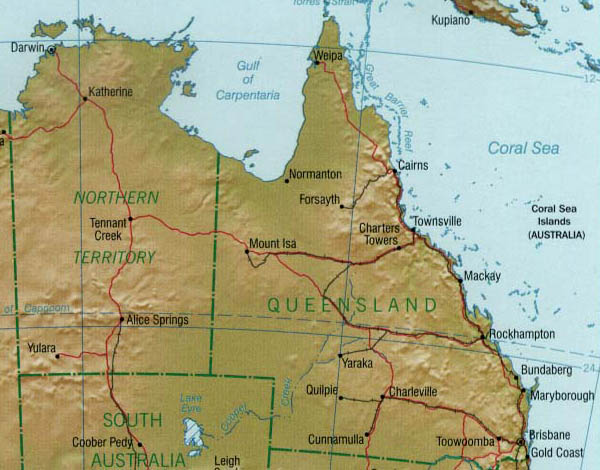 Don't get me wrong, Australia is a great place to live, with a freedom and a relaxed lifestyle that beats Europe hands down. But it can't match the feelings I (and everybody else who lives there) have in the Tropics.
Why is it ? Partly I believe because of the remoteness of all three places. And perhaps partly too because of the tough climate. Caucasians are out of their comfort zone in this regard, and perhaps just because of that it is an adventure to be there, life in the tropics feels almost surreal.

And perhaps there is something else too, rather quirky.
Imagine two men, one standing right on the South Pole and the other one on the Equator, both standing there motionless, not moving an inch for 24 hours. The man on the South Pole, as a result of the Earth's rotation, slowly, slowly is turned around on his axis until after 24 hours he is back in the same position.
But what happens to the other guy on the Equator ? He too keeps standing on the same spot, but unknowingly is moving at a speed of over 1,600 kilometers per hour, while the Earth makes a complete rotation around its access.

Because the atmosphere around us is moving too, we don't feel a thing of this rotational speed near the Equator, but it is there. Do we therefore somehow, subconsciously, experience this in a minute way ? Just so that we feel different here, more excited ? Does this differential movement between Pole and Equator produce a slowing down or speeding up of time in space time when we are nearer to the equator ???
(I am not sure about this, as the man on the Pole and the one on the Equator do not move with respect to one another over the 24 hours. But each do move quite differently with regard to the rest of the Universe. Definitely an interesting topic for more thought.)


Awareness continues on March 1
Freedom continues on November 25




Comments - Most Recent - Next Page - Previous - Top - Page 1 - Photos - Index - Topics - Jazclass Links

---

Copyright © 2008 Michael Furstner